Dijver, Bruges
Skirting the south bank of the canal beyond Rozenhoedkaai is the tree-lined quay known as the Dijver. One of the row of superb old patrician houses (No. 31) is now occupied by the College of Europe, a post-graduate institute for the study of greater European integration.
Related Attractions
An exquisite collection of Old Flemish Paintings can be found at the Groeninge Museum in Bruges. The Museum exhibits a gallery of modern art as well as an extensive collection of views of Old Bruges.
T'Leerhuys
In the Arentspark adjacent to the museum an art gallery (t'Leerhuys) has been established in the intriguing surroundings of an old tannery.
The Church of Our Lady in Bruges is the home to the famous sculpture "Virgin and Child" by Michelangelo.
The Memlingmuseum in Bruges is aptly named for it primarily showcases works of art by Hans Memling. The museum also exhibits antiques and works of other Flemish masters.
To Minnewater
Walstraat
South of Sint-Jansspitaal, along Katelijnestraat, Walstraat branches off to the right, a street of tiny, exceptionally pretty, gabled 16th and 17th C. houses in which lacemakers still practice their craft.
Lake of Love
In medieval times Minnewater (the "Lake of Love"), on the far side of Wijngaardplein, was part of Bruges's busy outer harbor. Nowadays only the Gothic sluishuis (lockhouse) at the north end provides a clue to its far from tranquil past and few of today's visitors think twice about how this enchanting little stretch of water came by its romantic name.From the bridge which crosses the southern end of the basin delightful waterside paths follow the line of the old town moat. The Poedertoren to the right of the bridge was built in 1398.
Prinselijk Beguijnhof ten Wijngaarde
Standing by the lockhouse there is a lovely view of the bridge over to the Béguinage. The Prinselijk Beguijnhof ten Wijngaarde, its white 17th C. houses grouped around a grassy, tree-shaded court, was founded in 1245 by Margaret of Constantinople. Today the Béguinage is the home of Benedictine nuns.
Begijnhof Museum
Today the Béguinage is the home of Benedictine nuns.No. 30 was the Grootjuffrouw's house. To the left, between the entrance gate and church (founded 1245, restored 1605), one of the former béguine houses has been turned into a museum. It offers a fascinating insight into life in the béguinage as well as providing an outlet for the sale of lace.
Map of Bruges Attractions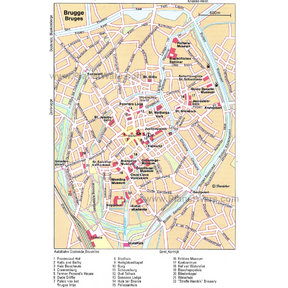 Bruges Map
More Bruges Attractions
Popular Destinations Nearby