Church of Our Lady, Bruges
Onze Lieve Vrouwkerk
Immediately south of the Gruuthusemuseum towers the 112m/368ft spire of the Onze Lieve Vrouwkerk (Church of Our Lady), the tallest in Belgium. Work began on the nave and aisles around 1230, the outermost aisles and chapels being added in the 14th and 15th C.
Opening hours:
Apr 1 to Sep 30:
10am-11:30am, 2:30pm-5pm; Sun: 10am-11:30am, 2:30pm-5pm; Closed: Sat
Oct 1 to Mar 31:
10am-11:30am, 3pm-4:30pm; Sun: 10am-11:30am, 2:30pm-4:30pm; Closed: Sat
Guides:
Guided tour included with admission.
Church of Our Lady Highlights
Michelangelo, Virgin and Child
The Onze Lieve Vrouwkerk is of interest chiefly for its wealth of art treasures, among which is a sublime sculpture by Michelangelo, "Virgin and Child" (1503-04). The sculpture stands on the altar of the chapel at the end of the south aisle and was a gift from the Bruges merchant Jan Moscroen who personally acquired it from the master in 1506. Dürer, who visited the church in 1521, was filled with admiration.
Tomb of Mary of Burgundy
The Calvary on the high altar is by Bernaert van Orley, the triptych "Adoration of the Shepherds" is by Pieter Pourbus and the "Transfiguration of Christ" is by Gerard David.Positioned adjacent to one another in the choir are the tombs of Mary of Burgundy (who married Maximilian, later Holy Roman Emperor; died 1482) and her father Charles the Bold (died 1477). Mary's tomb (1502) by Jan Borman is pure Gothic in style and of considerably greater interest from an artistic point of view than her father's, which dates from 1559. The black sarcophagi on which the copper gilt figures of father and daughter lie are colorfully emblazoned with coats of arms.Mary of Burgundy's actual burial place is now believed to be one of a group of tombs discovered in the choir in 1979. All are notable for their mural decoration and can been seen behind a protective glass screen.Pieter Lanchals, an adviser to Maximilian of Austria, lies buried in the Lanchals chapel off the south ambulatory. He was murdered in Bruges in 1488 at the time of Maximilian's "imprisonment". A number of fine paintings hang in the chapel including Adriaan Isenbrant's "Mater Dolorosa" (1530), a "Last Supper" by Pieter Pourbus and two panels by the Cologne artist Stefan Lochner ("Birth of Christ" and "Adoration of the Magi"). From the north ambulatory an elegant wooden gallery (15th C.) links the church to the Gruuthuse.
Church of Our Lady Pictures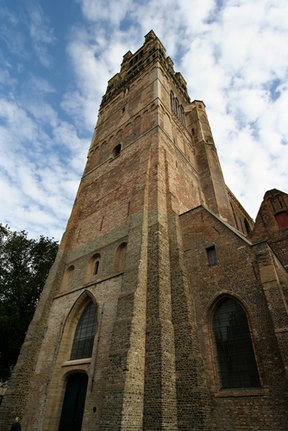 Map of Bruges Attractions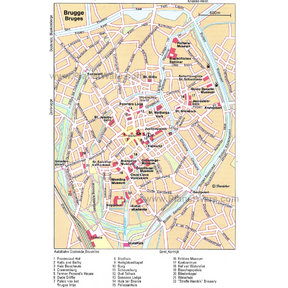 Bruges Map
More Bruges Attractions
Popular Destinations Nearby