Belfry, Bruges
Above the Halle soars Bruges's most distinctive landmark, the Belfry, 83m/272ft high and with a slight lean towards the southeast. It is one of the finest bell towers in Belgium and there can surely be few more impressive symbols of civic pride. Work started on the tower in 1282, the crowning octagonal upper section being completed two centuries later (in 1482). A carillon of 47 bells hangs in the tower.The tower is entered from the inner courtyard of the Halle and the top (366 steps) affords a superb panorama of the town and surrounding countryside. On the way up the old Treasure Room where civic documents are kept behind wrought-iron grills can be visited on the second floor.Concerts are played periodically throughout the week.The tower is a UNESCO site.
Opening hours:
Apr 1 to Sep 30:
9:30am-12:30pm, 1:30pm-6pm
Oct 1 to Mar 31:
9:30am-12:30pm, 1:30pm-5pm
Related Attractions
International Antique Fair
This international antique fair is held at the end of October or the beginning of November in the medieval halls in Belfry. All the leading art dealers and antiquarians will exhibit their most precious antiques.
Map of Bruges Attractions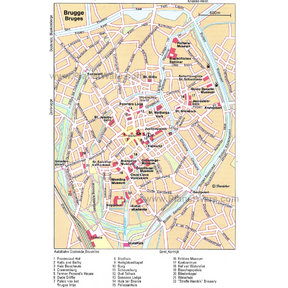 Bruges Map
More Bruges Attractions
Popular Destinations Nearby