Floating Harbor, Bristol
Nowadays the bigger freighters and passenger vessels are built further downstream, at large modern yards in Avonmouth and Portbury on the Severn Estuary. The old Port of Bristol on the Avon has been given a new and imaginative lease of life, with many wharves and warehouses converted or restored. Traditionally known as the Floating Harbor it is now an area full of delightful surprises.
Related Attractions
Watershed Warehouses
The old Watershed warehouses are alive with little restaurants, cafes and shops.
Arnolfini Centre
The Arnolfini Center, in a former tea trading house (1832) on the quayside opposite the Watershed, is a gallery of contemporary art.
Lifeboat Museum
Close to the swing bridge is the Lifeboat museum.
Industrial Museum
Close to the swing bridge is the Bristol Industrial Museum where exhibits include a collection of Rolls Royce airplane engines and a mockup of a cockpit from a Concorde.
Prince's Wharf
A swing bridge near the Center provides access to Prince's Wharf on the south side of the harbor.
Llandoger Trow
The most famous of Bristol harbor area's many bars and taverns is the triple gabled, half timbered Llandoger Trow in King Street, built in 1669. Here Alexander Selkirk is said to have told the story of his shipwreck to Daniel Defoe (1660-1731), who immortalized it in "Robinson Crusoe". The Llandoger Trow was also the model for the "Admirable Benbow", the inn frequented by Long John Silver in "Treasure Island" by Robert Louis Stevenson (1850-94). Carefully restored in 1991 the tavern is linked by an underpass to the Theatre Royal on the opposite side of the street.
Theater Royal
Opened in 1764 the theater, now the home of the Bristol Old Vic, is the oldest playhouse in England to have had its stage in continuous use.
Merchants' House
The Merchants' House (1696), a short distance west of the theater, is the headquarters of the Society of Merchant Venturers of Bristol, founded in 1532.
Map of Bristol Attractions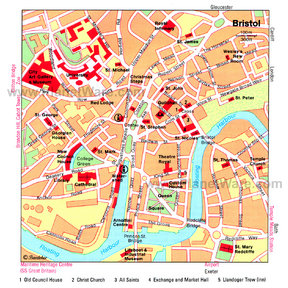 Bristol Map
More Bristol Attractions
Popular Destinations Nearby