Surroundings, São Paulo
There are several towns outside of São Paulo that are worth visiting.
Related Attractions
Embu is located not far from Rio de Janeiro and is a noted antique, handicraft, and furniture manufacturing center. The town is home to many artists and craftsmen.
Carapicuiba, Brazil
CarapicuibaCarapicuiba, founded in 1580, lies on the Rio Tietà 20km/12.4mi west of São Paulo; it is reached on the Castelo Branco expressway. If time permits, it is worth looking into Aldeia Velha (18km/11mi away) for the sake of its colonial houses.
Santo Andre, Brazil
Santo AndréAt Santo André, a historic little town 19km/11.8mi from São Paulo, now industrialized, is the Pedroso Regional Park (on the Estrada do Pedroso), a forest reserve with a lake (pedalos for hire), sports facilities and a cableway.
Paranapiacaba
ParanapiacabaFrom Santo André an excursion can be made to Paranapiacaba 60km/37mi from São Paulo). This little mountain village, very British in aspect, was built by the British engineers who constructed the railway line between Santos and Jundiaí.The best way of visiting Santo André and Paranapiacaba from São Paulo is to take the tourist train which leaves the Estação da Luz and takes just under an hour to cover the 48km/30mi to Santo André, with views of magnificent scenery on the way. From there the journey to Paranapiacaba must be continued by road (SP 122).Paranapiacaba has preserved the wooden houses of the railway construction workers, and it has a Railway Museum (Museu Ferroviário), with old steam engines. An unexpected landmark is the clock-tower, modeled on London's Big Ben. From the village footpaths run down into the Serra do Mar, from which there are views of a stretch of the coast.
Itapecerica da Serra, Brazil
The historic little town of Itapecerica da Serra, 33km/21mi from São Paulo on the Régis Bittencourt expressway, has two places of worship in very different styles, the church of Nossa Senhora dos Prazeres, the oldest church in the town (1562), on Largo da Matriz and the Kinkaku-Ji Temple, 4km/2.5mi outside the town on the old road to São Lourenáo. The temple is a reproduction of a 690-year-old temple, entirely covered with gold leaf, in Kyoto (Japan) of which there is only one other replica, in Honolulu. It stands in a large Japanese garden (192,000sq.m/230,000sq.yds), with three carp ponds and numbers of Asian plants, designed by the landscape architect Kato Matsumoto, who also created the gardens at Ibirapuera and Liberdade. The somon, the carved wooden entrance gateway, is 32m/105ft high.
Sao Bernardo do Campo, Brazil
São Bernardo do CampoThe industrial town of São Bernardo do Campo, 6km/4mi from Santo André and 21km/13mi from São Paulo, has preserved a number of colonial buildings, including the chapel of Santa Filomena (1736).
Chico Mendes Ecological Park
Chico Mendes Ecological ParkIn the Riacho Grande district (in São Bernardo, on Lake Billings) is the Chico Mendes Ecological Park (formerly the Estoril Park), with a man-made beach, boats and pedalos for hire, a zoo, a children's playground, sports facilities and a cableway. Access via the Rodovia Anchieta (31km/19mi).
Cidade da Criança
Cidade da CriançaMany visitors, particularly young ones, are attracted by the Cidade da Criança (Children's City) in the Jardim do Mar (reached by way of Via Anchieta), which consists of three large gardens with dozens of things to play with and a cableway.
Old Coast Road
Estrada Velha do Mar (Old Coast Road)Within easy reach of Riacho Grande is the Estrada Velha do Mar, the old coast road to Santos, along which are good fishing waters and historic old buildings. The road also affords beautiful panoramic views of the Serra do Mar and the Baixada Santista (the area round Santos). On the Alto da Serra, at km27/mi18 on the Estrada Velha, is the Casa de Pedra (Stone House).
Map of Sao Paulo (City) Attractions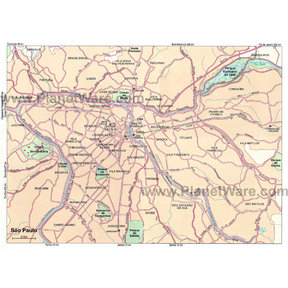 Sao Paulo (City) Map
More Sao Paulo (City) Attractions
Popular Destinations Nearby