Surroundings, Santos
Santos is a good center from which to visit the coastal towns of the Baixada Santista. To the north are the fashionable bathing resort of Guarujá and Bertioga, to the south São Vicente, from which the whole surrounding region was settled, Praia Grande and Mongaguá.
Related Attractions
Beritoga
BertiogaBertioga, 41km/25mi north of Santos (ferry to São Paulo, 108km/67mi north-west), has altogether 44km/27mi of beaches. The most interesting are to the north of the town - São Lourenço (21km/13mi from town center), Guaratuba (32km/20mi) and Boracéia (35km/22mi).
Forte São João
Forte São JoãoOn the Praia da Ensada, in the Bertioga harbor basin, is Forte São João (1547), attached to which is the João Ramalho Historical Museum. One of the most popular local events celebrated in the coastal towns is the Festa da Tainha (Festival of the Grey Mullet) in July.
Praia Grande, Brazil
Praia GrandeThe origins of the little town of Praia Grande, 16km/10mi south-west of Santos, go back to the 16th century, when the first settlers coming in from São Vicente established themselves here. Nowadays the town with its numerous apartment blocks attracts thousands of vacationers in summer.The best beaches are Boqueirão (in town), Canto do Forte (1km/.7mi north) and Guilhermina (1km/.7mi south). There is also good fishing in the rivers and coastal waters; for sea fishing the best place is the little port of Mar Pequeno.
Mongagua, Brazil
MongaguáThe little town of Mongaguá, established in 1959, is 41km/25mi from Santos and 88km/55mi from São Paulo. It offers the attractions of its 12km/7.5mi of beaches with calm water and the lush natural vegetation of the Serras de Guaperuvi, do Barigui and de Mongaguá; but its principal attraction is the floating artificial island of the São José bathing station, 400m/440yds off the coast and 8km/5mi from the town center.
Map of Santos Attractions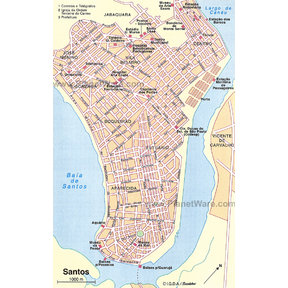 Santos Map
Popular Destinations Nearby