Downtown, Boston
Boston Downtown is roughly bordered by the Central Artery to the north, Washington Street to the east, Essex Street to the south and Beacon Street to the west. It is the home of the Public Garden and Boston Common, the State House, Faneuil Hall and more.
Related Attractions
Chinatown
Chinatown in Boston is located between South Station, the downtown shopping area, and the theater district. There is a large gateway over Beach Street, the districts main thoroughfare. The area is filled with restaurants and specialty stores. It is especially vibrant during Chinese New Year's celebrations in January or early February. Reputedly, it is a dangerous area at night.
Theater District
Many of the city's theaters are found between Tremont and Tyler streets, south of Chinatown and north of Oak Street.
Boston Lyric Opera
The Boston Lyric Opera was founded in 1976 with the mission to promote local and international singers, conductors, directors and designers. Each season the Boston Lyric Opera presents at least three different productions.
More Downtown Pictures
Map of Boston Attractions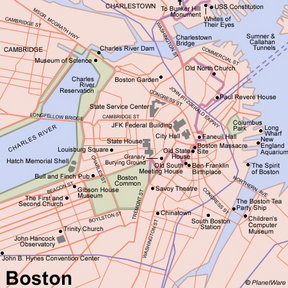 Boston Map
More Boston Attractions
Popular Destinations Nearby