Copley Square, Boston
To the west of the Hancock Tower is Copley Square, the main square of the Back Bay area, surrounded by both old and ultra-modern buildings, department stores, restaurants, hotels and shops. On the east side of the square is Trinity Church, a Neo-Romanesque red sandstone building with fine stained glass, some of it by Edward Burne-Jones and William Morris. On the west side is Boston Public Library (1895), in Italian Renaissance style. Farther west is the ultra-modern Prudential Center, with the Prudential Tower.This is an active area with great people watching, shopping, and sightseeing. Visitors will find high end hotels and businesses, and many business folk coming and going. In summer the park features fountains and is very scenic.
Related Attractions
Boston Public Library
Founded in 1848, the Boston Public Library is reputedly the first publicly funded lending library in the country. Architect Charles Follen McKim designed the present building located on Copley Square, in 1895. There are more than six million books in the library's collection with another million rare books and manuscripts. Among the library's treasures are first edition folios by Shakespeare and original music scores from Mozart. The library features regular exhibitions of its special holdings and hosts a variety of other art displays, films and other programs throughout the year. Many visitors come here not for the books but to see the library's acclaimed Renaissance Revival architecture. As well, there are murals by several famous artists including John Singer Sargent, Edwin Abbey and Puvis de Chavannes.
Trinity Church
Often considered by experts to be architect Henry Hobson Richardson's finest work, Trinity Church is a Romanesque-style church built in 1877. It is modeled after some of the churches Richardson saw in Europe while studying at the Ecole des Beaux Arts in Paris, notably the Old Cathedral in Salamanca, Spain. The interior of the church features ceiling frescoes, paintings and murals by artist John LaFarge.
Prudential Center
A 32-acre complex composed of high-rise apartments, shops, restaurants, the Boston Sheraton hotel, department stores and the Hynes Convention Center. On the 50th floor of the 52-story Prudential tower visitors can visit the "Skywalk" observation deck for views of the surrounding area.
More Copley Square Pictures
Map of Boston Attractions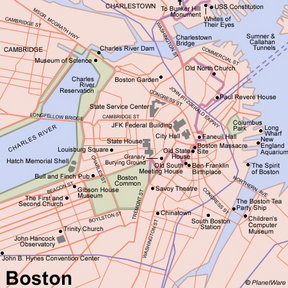 Boston Map
More Boston Attractions
Popular Destinations Nearby