Tachupal Tol (Dattatraya Square), Bhaktapur
Tachupal Tol (Dattatraya Square)The large Tachupal Tol east of the royal palace is the oldest part of Bhaktapur. In fact it pre-dates the founding of the city, going back perhaps as far as the 8th c. Here more than anywhere the ancient character of the city is preserved. Encircling the square are nine mathas, the Hindu equivalent of a Buddhist bahal. These monasteries, which once housed communities of priests headed by a religious teacher, are now the homes of ordinary families. One or two craft shops have also opened in the square, including "Tajmath", its premises graced by a magnificently carved, quintuple window. Wood-carvers can be seen at work in the courtyard.
Related Attractions
Dattatraya Mandir
Dominating the east side of the square is the massive three-storied Dattatraya Temple, in an archaic style otherwise rare in the Kathmandu Valley. It was founded in 1427 by King Yaksha Malla on the site of a building used by itinerant monks. The king dedicated the temple to Dattatraya in whom the three deities Brahma, Vishnu and Shiva unite. Since Vishnu the Preserver is the superior member of this divine trio, his attributes take pride of place. The porch on the west side, adorned with figures of the wrestlers Jai Malla and Patta, was added in 1860.The temple attracts many pilgrims and sadhus, particularly on the day after Shiva Ratri.
Pujari Math Museum
As part of the Bhaktapur Development Project, Pujari Math, one of the nine former priests' houses in Tachupal Tole, was restored in the early 1970s to its appearance at the time of King Vishva Malla. It was presented to King Birendra as a wedding gift. Note in particular the magnificent wood- carvings on the east front and also in the courtyard, especially the delightful peacock window. The craftsmanship is considered the finest in the Kathmandu Valley. Pujari Math has been turned into a museum of wood-carving with a small but priceless collection of free-standing sculptures and architectural carvings.The old house opposite also contains a museum, with a display of ritual and domestic metalware.
Bhimsen Mandir
Bhimsen Mandir, rectangular in plan, forms the western end of the square. The ground floor is open, leading through to a fountain on the other side. The religious symbol is on the floor above.
Map of Bhaktapur Attractions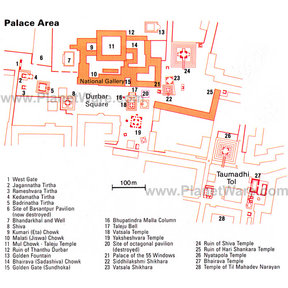 Bhaktapur Map
More Bhaktapur Attractions
Popular Destinations Nearby