Nydegg bridge to Bubenbergplatz, Berne
From the Nydegg bridge a series of picturesque streets (Nydeggsgasse, Gerechtigskeitsgasse, Kramgasse, Marktgasse and Spitalgasse), with many antique shops and art galleries, runs along the whole length of the old town of Berne for a distance of 1,700 m/1,860yd to end in the Bubenbergplatz.
Related Attractions
Gerechtigkeitsgasse
The Gerechtigkeitsgasse in Bern is lined on both sides by arcades and elegant shops. In the middle of the street is the Justice Fountain (Gerechtigkeitsbrunnen, 1543) probably by Hans Gieng of Freiburg, with Justitia (since 1988 a copy) as the image of justice. The original statue was destroyed in 1986 and has been carefully restored in the Historical Museum.
Town Council
At the far end of Rathausgasse, on right, leads to the Rathaus (Council House, the seat of the Great Council of the canton of Berne and of the Berne Town Council), in Late Burgundian Gothic style, built in 1406- 16, much altered in 1866 and restored in the original style in 1939-42. In the square in front of the Rathaus stands the Banner-Carrier or Venner fountain (1542).
Kramgasse
The continuation of Berne's Gerechtigkeitsgasse, the Kramgasse, lined with arcaded houses, has three fountains - the Kramgassbrunnen (1778), the Simsonbrunnen (Samson fountain, 1544) and the Zähringerbrunnen (1544) which shows the heraldic animal in jousting costume.
Albert Einstein House
The world-famous physicist, humanist and Nobel Prize winner, Albert Einstein, lived at 49 Kramgasse in Bern from 1903-05 before immigrating to the United States. The house is now a museum open to the public (photographs, documents). In 1905 alone he wrote six epoch-making treatises, discovered quantum light, for which he was awarded the Nobel prize 16 years later, and produced his "General Theory of Relativity", thereby revolutionizing contemporary concepts of space, time and mass.
Clock Tower
The Kramgasse ends at the Clock Tower (Zeitglockenturm or Zytgloggeturm), a notable Bern landmark, frequently rebuilt (the present stone tower with its pointed spire is 15th C.) which was the west gate of the town until about 1250. On the east side of the tower is an astronomical clock (1527-30), with mechanical figures which perform four minutes before every hour.
Marktgasse
Cage Tower
At the far end of Marktgasse is the Käfigturm ("Cage tower", 13th and 17th C.), which was one of the town of Bern gates from 1250 to 1350. Beyond it is the Bärenplatz, from which the Spitalgasse (pedestrian precinct), with the Pfeifferbrunnen (Piper's fountain, 1545), continues to the Bubenbergplatz.
Bubenbergplatz
The hub of the Bern's traffic is along the Bubenbergplatz. On its north side stands the handsome Bürgerspital (Municipal hospital, 1734-42; now an old people's home), built around two courtyards. To the right is the Heiliggeistkirche (church of the Holy Spirit: Protestant), in French Baroque style, built 1726-29.From here it is a short distance south along Christoffelgasse into the broad Bundesgasse, in which are the Bundeshaus and the Kleine Schanze.
Map of Berne Attractions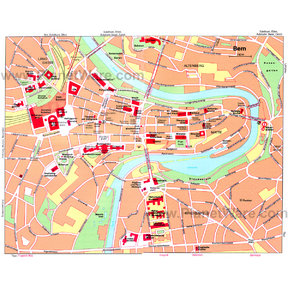 Berne Map
More Berne Attractions
Popular Destinations Nearby