Around Bundesplatz, Bern
On Bern's Bundesplatz a vegetable and flower market takes place on Tuesday and Saturday mornings. Sights on the square include the Renaissance-style Bundeshaus and a Banknote musuem.
Related Attractions
Parliament Buildings
Bern's Renaissance-style Bundeshaus (Parliament building), stands on the edge of the high ground above the Aare river. The domed central block (by H. Auer, 1896-1902) contains the two chambers of the Swiss Parliament (open to visitors), the meeting-places of the National Council and the Council of States; in the east wing (also by Auer, 1888-92) and west wing (by F. Studer, 1851-57) are various Federal agencies and the Federal library.From the Bundesterrasse, which rests on massive retaining walls, there are fine views of the river Aare 48 m/157ft below (funicular into valley) and of the Alps beyond.
Banknote Museum
In the Banknote Museum in Bern can be seen Swiss and foreign banknotes and also forgeries.
Little Redoubt
A popular viewpoint in Berne, with an orientation table, is the Kleine Schanze (Little Redoubt), a relic of the old fortifications. In the gardens are a monument to Oskar Bider, who made the first flight over the Alps in 1913, and a monument (1909) commemorating the foundation of the Universal Postal Union.
Around Bundesplatz Pictures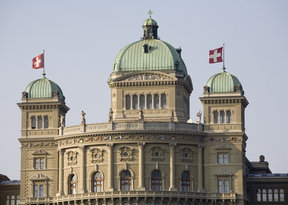 Map of Berne Attractions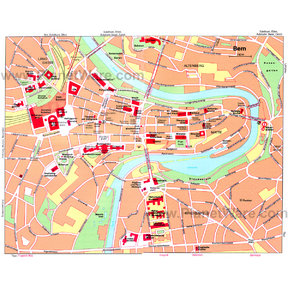 Berne Map
More Berne Attractions
Popular Destinations Nearby