St Mary's Church, Berlin
Marienkirche
After the Nikolaikirche (St Nicholas' Church), the Marienkirche is Berlin's second-oldest surviving parish church and is the church in which the Bishop of Berlin preaches. The interior was partially restored in 1986-87. The church first appears in the records in 1294. By 1340 it had been enlarged into a triple-aisled Gothic hall church with a five-sided east choir.
Important Information:
Address:
Karl-Liebknecht-Strasse 8, D-10178 Berlin, Germany
Opening hours:
Apr 1 to Oct 31:
10am-6pm
Nov 1 to Mar 31:
10am-4pm
It was burned down in 1380 but rebuilt a few years later. The steeple added by Carl Gotthard Langhans in 1790-92 is a pleasing mixture of Neo-Gothic and Classical.The plain exterior gives no hint of the treasures within. A particularly notable feature is a fresco of the Dance of Death (2 m/6.5ft high, 22.6 m/74ft long). Probably painted after an outbreak of plague in 1484, its fourteen scenes and verses in Central and Low German dialect describe how death is no respecter of persons. The fresco was distempered over in 1730 and rediscovered by August Stüler in 1860. Unfortunately the quality of the painting has been badly affected by the environment.The bronze font dates from 1437 and bears an inscription in Low German. The fine Baroque pulpit (1703) in the nave is by Andreas Schlüter. The organ dates from 1722 and concerts are given on Saturday at 4 p.m. from May to October. Near the Protestant gravestones the carving of St Bernardin of Siena (15th C.) and the "Holy Family" ascribed to Lucas Cranach the Elder are well worth seeing.Since 1726 an expiatory cross in stone has stood in front of the entrance, recalling the murder of Provost Nikolaus von Bernau in 1325.The statue of Luther near the church is all that remains of a large monument to the Reformation, which was erected on the Neuer Markt in 1895 and damaged in the Second World War; in addition to Luther it included other Reformers such as Reuchlin, Melanchton and Ulrich von Hutten.
Map - St Mary's Church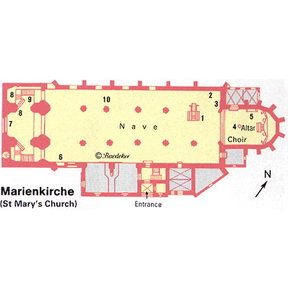 Map - St Mary's Church-Berlin
St Mary's Church Pictures
Map of Berlin Attractions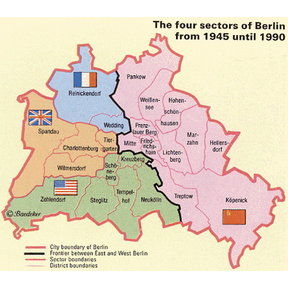 Berlin Map