Radio Tower, Berlin
Funkturm
One of Berlin's landmarks is the Radio Tower, affectionately known to Berliners as "The Beanpole" (langer Lulatsch). Designed by Heinrich Straumer, it was begun in 1924 and began to operate in 1926, during the Third Radio Exhibition. As well as being used for transmitting purposes, it was intended for use as a viewing tower and lighthouse for aircraft.
Important Information:
Address:
Messedamm 22, D-14057 Berlin, Germany
Facilities:
Restaurant or food service
Transit:
U-Bahn: Theodor-Heuss-Platz, Kaiserdamm (U1); Bus: 104, 105, 110, 149, 219.
In 1929 the world's first television picture was transmitted from it. In 1945 a shell destroyed one of the main supports, leaving the tower standing "on three legs", but it did not topple over. The tower, looking like a miniature Eiffel Tower, has a total height of 150 m/495ft including the aerial. From the restaurant, situated at a height of 55 m/180ft, and from the observation platform at 126 m/413ft (lift) there are magnificent panoramic views of the city. To the east stretch the halls and grounds of the Exhibition and Trade Fair Center, and to the west lie further exhibition halls linked by a bridge to the International Congress Center ICC.
Related Attractions
German Radio Museum
At the very foot of the Radio Tower in Berlin stands the German Radio Museum (entrance from Messedamm), which was reopened in time for the 1989 Radio Exhibition after extensive building work. By 1993 the building should be extended still further to provide a total exhibition area of 2,500 sq.m/26,900 sq.ft. The collection shows the development in radio transmitting and receiving technology from the commencement of German radio in 1923 to the mid-sixties. It also contains an historically accurate reproduction of the studio from which Germany's first radio transmission was sent out in 1923. Temporary exhibitions are also held in the museum.To the northeast, on the far side of Masurenallee, stands the five-storied House of Radio built by Hans Poelzig between 1929-31. Adjoining it on its north side is the television center of the SFB (Sender Freies Berlin, or Free Berlin Television).
Map of Berlin Attractions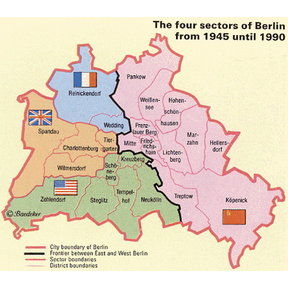 Berlin Map