Old Museum, Berlin
Altes Museum
The Old Museum, situated on the Museumsinsel (Museum Island), is Berlin's oldest museum and the third oldest in Germany after the Fridericianum in Kassel (1779) and the Glyptothek in Munich (1816-30). Built by Karl Friedrich Schinkel in 1824-30 as a "Royal Museum," it is in the style of a Greek temple, with a portico of eighteen Ionic columns.
Important Information:
Address:
Lustgarten, D-10178 Berlin, Germany
It was burned down in the Second World War, rebuilt in 1960 and reopened six years later. The entrance bears the following inscription in Latin: "To the study of antiquity and the beauties of art." In front of the wide flight of steps stands a huge granite dish carved by Christian Gottlieb Cantian from a glacial erratic in 1827-30. It measures 6.9 m/23ft in diameter, weighs 76 tons and has been nicknamed "the biggest soup-spoon in Berlin." Two sculptures flank the museum entrance. On the left, Albert Wolff's "Youth" on horseback is slaying a lion, and on the right is the "Amazon on horseback fighting a tiger" by August Kiss.While Berlin's museums are being re-organized, the Old Museum is used only for temporary exhibitions.
Old Museum Highlight
Print Cabinet Collection
The Print Cabinet collection in Berlin's Old Museum embraces 130,000 sheets of graphic art - miniatures, drawings, engravings, woodcuts, etchings, etc. - ranging in date from the 15th C. to the present day. It is thus one of the largest collections of the kind in Europe. During the last war the collection was dispersed, and much of it is now in the Print Cabinet of the Dahlem Museums. The Print Cabinet in the Old Museum is open for study purposes only, by prior arrangement, whereas that part of the collection in the Dahlem Museum is open to the general public.
Map of Berlin Attractions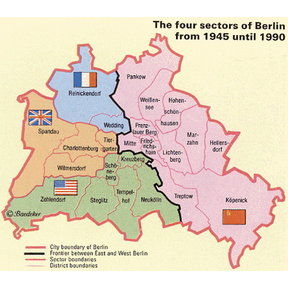 Berlin Map