National Berlin Library of Prussian Cultural Heritage
Staatsbibliothek zu Berlin - Preussischer Kulturbesitz
After the Second World War, Berlin's libraries became broken up. The collections of the former Prussian State Library had been decimated during the war and it was not possible to bring them together again when the war ended. The German State Library (Deutsche Staatsbibliothek) was opened in the old building in East Berlin, while in West Berlin the National Library of Prussian Cultural Heritage (Staatsbibliothek Preussischer Kulturbesitz) was founded and housed in a new building on the Culture Forum at the end of the 1970s. When the Berlin Wall fell, both libraries were again merged into one under the name of National Berlin Library of Prussian Cultural Heritage, but occupying separate premises.
Address:
Unter den Linden 8, D-10117 Berlin, Germany
Related Attractions
Former National Library of Prussian Cultural Heritage
The Former National Library of Prussian Cultural Heritage originated as the Prussian National Library, most of which was moved to West Berlin during the last war. About 1,700,000 volumes were stored in Marburg, and many manuscripts and prints found a temporary home in Tübingen University Library. All of these were then returned to Berlin. The new library - one of the largest and finest built in Europe since the war - was erected in 1967-68, and the architect was Hans Scharoun. The site, which adjoins the southeastern edge of the Culture Forum, has an area of 38,000 sq.m/45,450 sq.yd, just over half of which is occupied by the library itself. The building measures 229 m/750ft by 152 m/500ft and has a total area of 81,300 sq.m/97,250 sq.yd. A direction and information system beginning at the main entrance enables visitors to find their way about the building. The library can house up to eight million volumes. Its present stock amounts to four million books and printed documents from every field of knowledge and many countries. Some 31,000 newspapers and periodicals are kept and are available for consultation, as are 220,000 microfilms and microfiches. There are several departments: a Manuscript Department (including the Psalter of Ludwig the German, ninth C.; "Book of Hours" by Nicolas Firmian of Flanders, c. 1500) ; a Music Department (with a collection of some 20,000 musical scores); a special collection on the Mendelssohn family; a Map Department; an Eastern European Department (with one of the world's largest collections of Oriental manuscripts); and an East Asian Department. The Library's photographic archives contain some five million photographs of graphic art, prints, woodcuts, lithographs, etc.The building complex to the southwest houses the Ibero-American Institute, with a specialist library, a lecture hall seating about 500 and a smaller hall with 100 seats.
Map - National Berlin Library of Prussian Cultural Heritage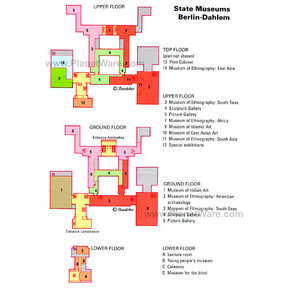 Map - State Museums of Prussian Cultural Heritage Berlin-Dahlem
Map of Berlin Attractions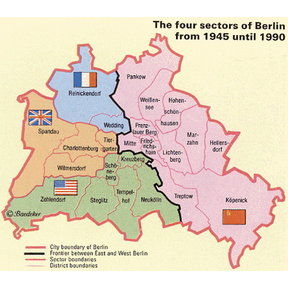 Berlin Map