Collection of Classical Antiquities, Berlin
The Museum of Antiquities in Berlin's Charlottenburg district has been housed since 1960 in the western part of the building erected by Stüler; organization-wise, it has again been combined with the Antique Collection in the Pergamon Museum and is now also designated as the Antique Collection. The identical eastern part is occupied by the Egyptian Museum, and between the two a wide road leads to Charlottenburg Palace.
Collection of Classical Antiquities Map
Important Information:
Address:
Schlossstrasse 1, D-14059 Berlin, Germany
Opening hours:
10am-6pm; Thu: 10am-10pm; Closed: Mon
Entrance fee in EUR:
Adult €8.00, Concession or reduced rate €4.00
In the center of the road to the Palace stands a memorial (by Eugen Boermel 1872) to Prince Albert of Prussia, brother of Emperor William I. The nucleus of the collection came from the old Antiquarium, founded in 1830, which was dispersed during the Second World War and is now split between here and the Bode Museum, Late Antique and Byzantine Collection. The museum's four floors display notable examples of ancient art from the Minoan and Mycenaean periods to Early Byzantine times - Attic vases, bronzes, jewelry, votive figures, mummy portraits, precious metal and ivories. Special mention should be made of a bronze horse from Olympia (c. 730 BC), a bronze statuette of a youth from Samos (sixth C. BC), drinking bowls from Peithinos and Sosias (both c. 500 BC), a bronze Zeus from Dodona (c. 470 BC), a marble likeness of Cleopatra VII (1 BC) and a Luna statuette from the first C. AD
Related Attractions
The Egyptian Museum and Papyrus Collection in Berlin exhibits artifacts of art and culture from Ancient Egypt.
Berlin Antique Collection - Treasure Chamber
The Treasure Chamber in the basement of the Berlin Antique Collection houses such celebrated exhibits as the Hildesheim Treasure (a hoard of silver vessels dating from the time of the Roman Emperor Augustus in the first C.), mummy portraits from Fayum in Egypt (first C.) the Scythian Gold Treasure from north of the Black Sea (c. 500 BC) and others.
Map - Collection of Classical Antiquities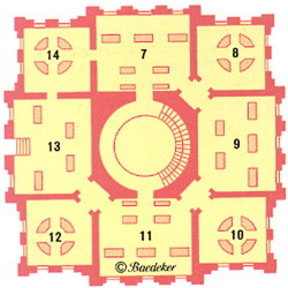 Map - Berlin Museum of Antiquities - State Museum of Prussian Cultural Heritage
Map of Berlin Attractions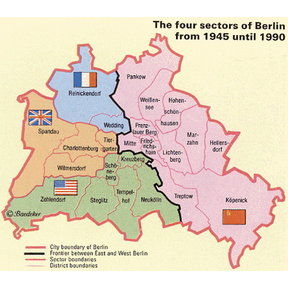 Berlin Map