Checkpoint Charlie
The whole world knew of Checkpoint Charlie, the crossing point for foreigners, diplomats and the military in the heart of Berlin on the border between the American and Soviet sectors. Here more than anywhere else in the city the Cold War made itself felt as French, British and American soldiers on one side and Soviet soldiers on the other eyed each other suspiciously.
The security arrangements on the Eastern side were very costly: several barriers, chicanes through which all vehicles had to wind their way and armed watch-towers were all constructed in order to prevent any attempts to escape. At the height of the Berlin crisis, between Oct. 25 and 28, 1961, American and Soviet tanks faced each other here on Friedrichstrasse with their engines running when the Americans sought to establish their right to uncontrolled entry into the Eastern sector of the city. Today Checkpoint Charlie is a deserted area waiting to be redeveloped. The legendary border post of the Western Allies was demolished in 1990 and given to the German Historical Museum in September of that same year. On the corner of Zimmerstrasse and Friedrichstrasse a small piece of the border defenses has been retained and is known as the "Topography of the Germano- German Border". It now forms part of the Checkpoint Charlie Museum -- a piece of the wall, an East German guardroom, a watch-tower, fence posts and tank traps. Commentaries are provided by a former officer of the East German border guards and by a former East German passport official.
Related Attractions
Checkpoint Charlie Museum
A few yards south of the former border crossing in Berlin is Checkpoint Charlie Museum. It documents the civil and human rights movements which developed here, and, above all, the story of the division of Germany, the Berlin Wall and of those who gave their lives. Photos, documents and numerous original vehicles, apparatus and gadgets all show the inventive skills and courage displayed by those desperate enough to want to cross over.
Checkpoint Charlie Pictures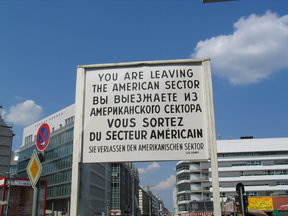 Map of Berlin Attractions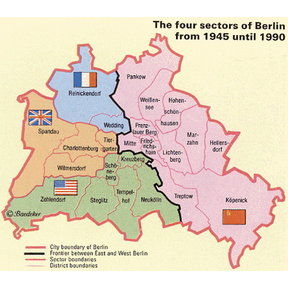 Berlin Map