Britz
In that part of Berlin known as Britz, lying south of the Teltow Canal in the Neukölln district, visitors can find the "Horseshoe Development" designed by Bruno Taut and Martin Wagner, one of Berlin's best-known large housing developments dating from the 1920s. There are 1,024 flats in all, centered on those built in 1924-27 around the pool on Louise-Reuter-Ring. Extensions to the east and south were added in the 1930s and 1950s, respectively.
Related Attractions
Palace and Park
A little west of Horseshow Development in Berlin's Britz is the edge of the park belonging to the Britz estate, in which lies the very pretty Britz Palace. This Prussian country manor house was built in 1706 and visitors can see the original furnishings by joining a guided tour.Temporary exhibitions and concerts are also held. The Palace is closed during the summer and winter holidays.
BLUB
On Buschkrugallee to the north of Berlin's Britz lie the baths known as "blub" (Berliner Luft- und Badeparadies), with flumes and wave pools, a chute 120 m/400ft long and other exciting features.
BUGA Park
In the south of Berlin's Britz, between Buckower Damm and Mohriner Allee, stretches the extensive Britzer Garten (leisure park entrance on Massiner Weg), where the 1985 West German Horticultural Show was held. The park, which at that time was laid out with artificial ponds, milk bars, a bistro and an old-time railroad, is today enjoyed by Berliners as a leisure and amusement park.Over to the east, by Buckower Damm, stands Britz Mill, a Dutch windmill dated 1865.
Map of Berlin Attractions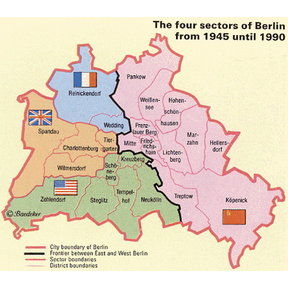 Berlin Map