Berlin Philharmonic Hall
Philharmonie
It was many years after the last war before Berlin acquired a worthy concert hall and the Berlin Philharmonic Orchestra gained a regular home. After the destruction of the old Philharmonic Hall the orchestra had found temporary quarters in the Academy of Music, but this accommodation had proved inadequate for their needs.The new Philharmonic Hall on the edge of the Tiergarten, designed by Hans Scharoun and built between 1960-63, is an asymmetric structure with a tent-like concrete roof, whose exterior exactly reflects the functional design of the interior.
Berlin Philharmonic Hall Map
Important Information:
Address:
Matthäilkirchstrasse 1, D-10785 Berlin, Germany
Guides:
Guided tour included with admission.
Alluding to this unusual design combined with the name of the late conductor of the Berlin Philharmonic, the new hall became popularly known as "Karajan's Circus".The concert hall itself, with seating for 2,000, is pentagonal in plan, with a central stage and the audience seated on terraces rising around it. This layout caused some surprise at first, since audiences were not used to the idea of looking at the backs of the orchestra, but it has now been accepted -- largely, no doubt, because of the excellent acoustics in every part of the hall.Round the concert hall are a series of foyers linked with it by corridors.
Map of Berlin Attractions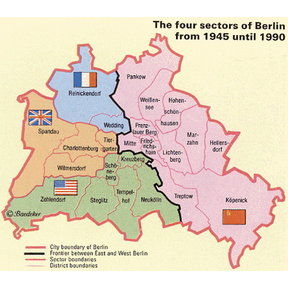 Berlin Map