Anhalter Bahnhof, Berlin
Anhalter Bahnhof in Berlin was once a most imposing station, the "Gateway to the South" for Berliners. Until the Second World War trains from Dresden, Leipzig and Halle an der Saale all arrived here. Today all that remains is a section of the front facade and the entrance on Askanischer Platz. The first Anhalter Bahnhof, modest in size and appearance, was built in 1839.
In 1841, August Borsig's first locomotive pulled a train from here to Jüterborg. Increased demand for passenger and goods trains in the middle of the 19th C. meant that a new station had to be built. In 1875 the task was entrusted to the architect Franz Schwechten (who also designed the Emperor William Memorial Church and the AEG factory) and the engineer Heinrich Seidel. On June 15, 1880, the first train with 700 passengers rolled out of Anhalter Bahnhof bound for Lichterfelde. The vast platform hall 170 m/560ft long and 60 m/200ft wide, with an iron roof spanning an area of 10,200 sq.m/12,200 sq.yd, and a reception hall of brick decorated with terra-cotta and formal stone were considered at the time to be a masterpiece of railroad station construction. The Anhalter Bahnhof was in its heyday after the Prussian Railroads were nationalized around 1900 and also after the First World War. Before the Second World War, 58 trains entered and left each day and some 40,000 people thronged the platforms. On Nov. 23, 1943, it was so heavily bombed that long-distance trains could no longer run. After the war it fell into decay and was demolished in 1961. After years of neglect the site has now been made a "green belt", linking it with Potsdamer Platz.
Map of Berlin Attractions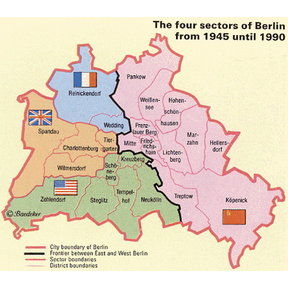 Berlin Map