Surroundings, Hasselt
Related Attractions
Provinciaal Domein Bokrijk
Across the Albertskanaal, 8km/5miles northeast of Hasselt, the 540ha/1334 acres of heath and woodland of the Domain Bokrijk offers a wide choice of leisure activities.There is an enormous play area with roundabouts and pony rides for children together with facilities for various sports.Nature lovers can stroll through the arboretum, rose and herb garden.

Bokrijk
A recent addition is a small town with a total of seven cafes and restaurants cater for the visitor.Bokrijk is best known for its open-air museum located on 550ha with a botanical garden and playground. There are over 100 restored historical buildings featuring authentic farming tools, furniture and household goods.
Open-air Museum
The extensive Provinciaal Domein Bokrijk open-air museum presents reconstructions of farmhouses and farmsteads from individual regions of the country. Old crafts such as milling, baking and lace making are demonstrated.
Bokrijk Day and Rockrijk
Bokrijk Day and Rockrijk involves various events in the Bokrijk open-air museum.
Arboretum
Over 3,000 species of trees are to be found in this landscaped park.
Houthalen-Helchteren, Belgium
In the area around the twin community of Houthalen-Helchteren (13km/8miles north of Genk) there are three leisure parks offering a variety of entertainment. The Domein Molenheide has water slides, swimming pools, sports grounds; Robinson wildlife park as well as the Domein Hengelhoef and Kelchterhoef, each with a zoo and numerous attractions.
Zolder
The 4.5km/3mile Zolder race track (Omloop van Terlamen) is famous outside of Belgium, 11km/7miles northwest of Hasselt. The Formula I Grand Prix takes place alternating between here and Franchochamps; other motor car and motorcycle races also take place.
Heysden (Zolder - Bovy Estate)
A natural area with several different gardens, beehives and an 18th century farmhouse.
Surroundings Pictures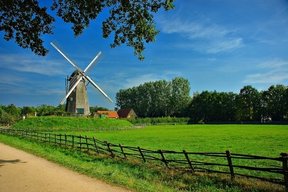 Map of Hasselt Attractions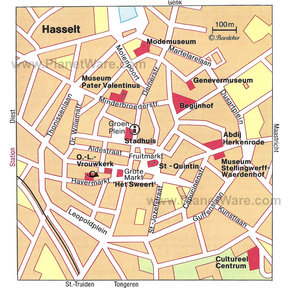 Hasselt Map
Popular Destinations Nearby