Surroundings of the Town Hall, Ghent
A number of interesting buildings are to be found in the vicinity of the town hall in Ghent.
Related Attractions
Town Hall
North of the Lakenhalle on the Botermarkt stands the magnificent Stadhuis (town hall). It combines a variety of architectural styles, having been built over a long period of time. On the oldest parts of the building on the Hoogpoort, completed in the style of Bruges City Hall in 1482 and containing the council chambers, the architects Rombout Keldermans and Dominik de Waghemakere built a new wing in the finest late Gothic form richly decorated with statues.However, building work on this part, which is best seen from the corner of Hoogpoort and Belfortstraat, was suspended because of religious disputes in 1539. Only a quarter of the original plan was realized and only the Pacificatiezaal (Peace Hall; actually the court room for the Keure, the protectors of the town constitution) and the Marriage Chapel, both 1535, were built. Work only resumed at the end of the 16th C. so that the wing facing the Botermarkt is in Renaissance style as is the Throne Room on the upper floor (1635). Further building was carried out in the 18th C. on the Conciergerie (Flemish Baroque; corner of Hoogpoort/Stadhuissteeg) and the Armenkamer (Roccoco, 1750; at the Poeljemarkt).
Sint-Jorishof
Directly opposite the town hall on the corner of Hoogpoort stands the former house of the Guild of Crossbowmen, Sint-Jorishof of 1477, where Maria of Burgundy granted greater freedom to the Flemish towns.
Hoogpoort Old Houses
There are many fine old houses in Hoogpoort which runs north of the Stadhuis.On the Sint-Jorishof are No. 50 "Grote" or "Witte Moor" (15th century) and No. 52 "Zwarte Moor" (15th century), both fine examples of Brabant Gothic with typical stepped gables. No. 54 "De Grote Sikkel" (14th century) adjoins, once owned by the van Sikkeln family; today it houses the Academy of Music.Off the Biezekapelstraat is the "De Achtersikkel" (16th century) with an attractive courtyard and small tower.In Hoogpoort heading west are No. 33 "De Samson" (1481; the guild house of the Ghent goldsmiths until 1540), No. 15, "De Draecke" (15th century) and finally house No. 10 (1732). It is called "De Ram" and was originally occupied by an apothecary. On the facade are an apothecary sign and a bust of the botanist Carolus Clusius, founder of the botanical gardens in Leiden, Holland.
Map of Ghent Attractions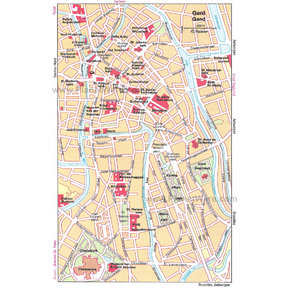 Ghent Map