Surroundings, Ghent
Several towns of interest lie beyond the boundaries of Ghent proper.
Related Attractions
Recolettenlei Boat Trip to Deurle
Boats leave from the Recolettenlei at the Law Courts for Deurle and back.
St Amandsberg, Belgium
Sint-Amandsberg is well placed for a visit to the harbor (boat trips tel. 21 84 51; bus tours tel. 51 05 50).
Nieuw Begijnhof
About 9km/5mi northeast of the Ghent city center the successor to the abandoned béguinage of Sint-Elisabeth was constructed in an open field in 1873/1874. The large, walled béguinage which attempts to recreate the medieval atmosphere is completely enclosed by the houses of the suburb of Sint-Amandsberg. The 80 cottages are still inhabited by béguines who earn their living by lace-making.
Nieuw Begijnhof Museum
The béguinage has a museum with religious objects and household goods showing the lifestyle and development of a béguine.
Lochristi
Leaving Sint-Amandsberg in an easterly direction the N70 reaches Lochristi, a flower-growing center, specializing in begonias. The begonia festival takes place during the last week in August.
Kasteel van Beervelde
The garden found at this castle is an English garden of lakes, ponds and bridged pathways.
Laarne Castle
Laarne castle is situated 11km/7mi east of Ghent. The 11th/12th C. pentagonal fortress was built to defend Ghent and rebuilt in the 17th C. Today it has two inner courtyards and a large keep on the right-hand facade and is surrounded by a moat. A stone arcaded bridge leads to the entrance.The interior is furnished in the French and Antwerp styles; with exceptionally beautiful Brussels tapestries (16th C.) depicting the Emperor Maximilian hunting, after cartoons by Bernard van Orley. On the first floor is a collection of silverwork of European class. It is the Claude Dallemagne Kollektion, which comprises chiefly French and Belgian silver from the 15th-18th C., including a plate designed by Rubens in 1628 which belonged to the Tsarina Catherine II and several splendid tankards.
Leiestrek
The Leie meanders southwest of Ghent through delightful verdant countryside. There are numerous places of interest along its banks.
The Flemish-Spanish style Kasteel van Ooidonk is the primary residence of Baron de Nevele, and is open for tours.
Centre Blaarmeersen
A short distance from Ghent lies the 100ha sports and recreation center of Blaarmeersen. Here, visitors can relax along signposted paths, bask in the sun upon laid-out beaches, enjoy a quiet moment along the fishing quays or play with the remote controlled boats.For sports there 11 outdoor and six indoor tennis courts, a parabolic practice wall, four squash courts, seven football pitches, a synthetic athletics track, a roller-skating rink, a rugby field and a fitness track.For more outdoors activities, visitors can take to the waters by boat, sailboard or kayak. As well, a bicycle track and mountain-bike track are available along with a winter ski-run.
Recolettenlei Boat Bruges-Ghent
Day trips to Bruges leave from the Recolettenlei.
Map of Ghent Attractions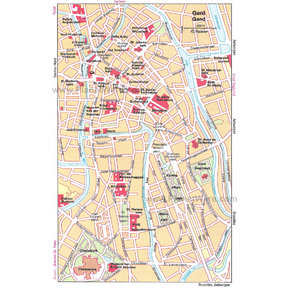 Ghent Map