South of Belfast Lough
The road along the south side of Belfast Lough, continuing down the coast, passes through lovely scenery and a number of attractive little towns and villages.
South of Belfast Lough Map
Related Attractions
Holywood, Belfast, Northern Ireland
Holywood, a suburb of Belfast, has remains of a 12th C. Franciscan Friary called Sanctus Boscus (Holy Wood), hence its name.
Bangor, Northern Ireland
From Holywood the road runs via Crawfordsburn to Bangor (pop. 55,000), the most popular of Northern Ireland's seaside resorts, with wide sandy beaches, beautiful promenades and plentiful facilities for sport and entertainment.Bangor is a university town, sailing center and a good base for trips to the beautiful island of Anglesey, which is connected to the mainland by Telford's Menai Suspension Bridge.
Bangor Castle
The Castle is a feature of interest, set in Castle Park.
Abbey Church
A feature of interest in Bangor is the Abbey Church, on the site of a once powerful monastery founded in 555.
Helen's Tower
Helen's Tower, near Crawfordsburn, on the way to Bangor, should not be missed.
Copeland Island
From Helen's Tower beyond Bangor Copeland Island can be seen out to sea.
North Down Heritage Centre
The North Down Heritage Centre offers exhibits including: a ninth century handbell, the Ballycroghan Swords (500 B.C.). It also features toy and railroad displays, audio-visual shows and a observation bee-hive in the summer.
Helen's Bay - Crawfordsburn Country Park
Crawfordsburn Country Park offers spectacular beaches, coastal and riverside walks. There is a small military museum at Grey Point Fort.
Comber, Northern Ireland
The road south from Newtownards can be taken to the town of Comber and on down the west side of Strangford Lough to Downpatrick (21mi/34km).
Castle Espie - Wildfowl & Wetlands Trust
Castle Espie is home to Ireland's largest collection of ducks, geese and swans. The fowl can be seen from woodland walkways, a waterfowl garden or the nature center. An art gallery and gift shop are also located on the site.
Mahee Island - Nendrum Monastic Site
On Mahee Island are the remains of a pre-Norman monastery including: three concentric stone walls, a church, a round tower stump, a sundial and cross-slabs. A small museum is part of the Nendrum Monastic Site.
Saintfield, Northern Ireland
Garden lovers will prefer the route which turns away from Stangford Lough via the little town of Saintfield, allowing a visit to the beautiful Rowallane Gardens with their many rare flowers and plants.
Rowallane Garden
Near Belfast is Rowallane Garden, a 52-acre National Trust property with plants from all over the world. The daffodil and rhododendron spring blooming is particularly beautiful, while in summer there are also many natural sights to enjoy. Autumn offers an amazing display of foliage and berries. A variety of birds feed in the grounds throughout the winter.
Strangford, Northern Ireland
More interesting than the direct route to Clough is the road round the coast via Strangford, an old Viking settlement in a beautiful situation on Strangford Lough.
Castle Ward
Castle Ward is located on a 700-acre estate surrounded by woodland, lake and seashore. The 18th C mansion has facades in different styles: Classical, Gothic, Victorian. This National Trust property also features a saw mill, tower house, beautifully landscaped gardens, audio-visual show, playground and a Victorian pastimes center with toys and dressing-up.There is a campground nearby.
Audley Castle
The strategic importance of the Strangford area is evident from the fact that there are four 16th C. Anglo-Norman castles in the immediate vicinity. One of these, Audley Castle (c. 1500) is open to visitors.
Raholp Church
In Raholp Church the last rites are said to have been given to St Patrick. The ruins of this sixth century church of St Tassach have been restored to a certain extent.
Downpatrick, Northern Ireland
Downpatrick (pop. 8,200) is the county town of Co. Down. Here in 432 St Patrick began the conversion of Ireland, having landed at Saul, 2mi/3km further north, where he built his first church and where he is said to have died, although the granite stone in the churchyard does not appear to date from this period.

Downpatrick Cathedral
Downpatrick Cathedral was built in 1790 on the remains of an earlier church; the font and some of the capitals came from the older church.The 12th C. cathedral was built by John De Courcy. According to tradition Saint Patrick is buried in the cathedral graveyard.
Quoile Countryside Centre (Castle)
Quoile Countryside Centre offers demonstrations on how flood control barrage has changed the saltwater estuary to fresh water resulting in curious vegetation, insect and fish life in the Quoile Pondage. Nearby are ruins of the 16th century Quoile Castle.
Down County Museum
The Down County Museum features Stone Age artifacts and Bronze Age gold discovered locally. The museum is housed in a former jail which also contains a restored cell-block with life-size figures.
Inch Abbey
Ruins of a Cistercian monastery, Inch Abbey was founded in the 1180s by John de Courcy. Located on an island in the Quoile, it is reached by a causeway.
Struell Wells
Struell Wells is strongly associated with St Patrick. The healing wells and bath houses lie in a secluded valley. The site dates from 1600.
Ardglass, Northern Ireland
No fewer than seven castles protected the little village of Ardglass, once an important harbor but now principally a fishing village.
Jordan's Castle
One of seven castles protecting the village of Ardglass, Jordan Castle has considerable remains, including a square keep.Around 1600 the four-story tower house withstood a siege.
Killough, Northern Ireland
West of Killough is a very attractive beach.
Map of Belfast Attractions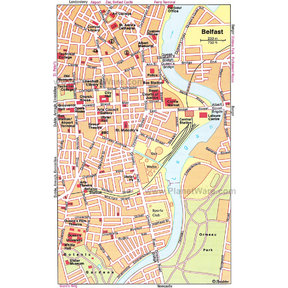 Belfast Map
More Belfast Attractions
Popular Destinations Nearby