Giant's Causeway (Causeway Centre)
Situated 8mi/13km from the Bushmills is one of the great tourist sights of Northern Ireland, the Giant's Causeway, a geological formation of volcanic origin, consisting of a series of some 40,000 vertical basalt columns of prismatic form and varying width and height, their top sides forming stepping stones. Some of the columns have names, like the "Lady's Fan", the "Giant's Organ" and the "Horseshoe". The most imposing part, reached by the Shepherd's Path, is known as the Amphitheater, with symmetrically arranged blocks of basalt and columns up to 80ft/24m high towering out of the sea.
Giant's Causeway (Causeway Centre) Map
Legend has it that the causeway was created by the giant, Finn McCool, an Ulster warrior and Commander of the Royal Army of Ireland. Finn had fallen in love with a giantess on the island of Staffa and began to build a path in order to bring his beloved back to Ulster.The Moyle District Council has built a visitor's center with interpretive displays, an audio-visual theater and tourist information.The Giant's Causeway is a World Heritage Site and National Nature Reserve.
Related Attractions
North West 200 - Motor Cycle Races
The world famous NORTH WEST 200 motor cycle road races are held every May on a hair-raising course on the Causeway Coast.
More Giant's Causeway (Causeway Centre) Pictures
Map of Belfast Attractions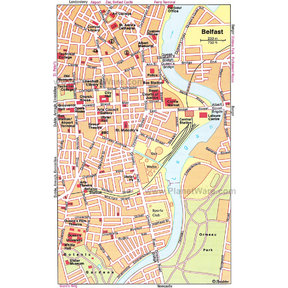 Belfast Map
More Belfast Attractions
Popular Destinations Nearby