Ilha de Marajó
Ilha de MarajóThe Ilha de Marajó, which is washed by the waters of the Amazon, the Tapajós and the Atlantic, is one of the largest river islands in the world, with an area of around 50,000sq.km/19,000sq.mi. During the dry season it reveals two completely different landscape forms: to the east are the terras altas, a plain with an area of some 23,000sq.km/9000sq.mi covered by shrubs and grassland, while the rest of the island, the lower terras baixas, is occupied by forests. From January to June the terras baixas are flooded by the Amazon and become a vast expanse of bogland which provides ideal grazing for large herds of water buffaloes. The animal life of Marajó also includes caimans, sloths, monkeys, capybaras, deer, turtles and many species of snakes and birds, as well as countless species of fish, including pirarucus, tucunarés (freshwater fishes of the cichlid family), tambaquis and the dreaded piranhas. Marajó can be reached by air (air taxis from Belém to Soure), boat (6 hours from Belém) or bus (from Belém: over Marajó Bay by ferry, then bus to Salvaterra and finally ferry to Soure).
Related Attractions
Pororoa
PororoaOn Marajó can be observed the natural phenomenon known as the pororoa, the clash between river and tidal waters, which is particularly violent at the spring tides.
Soure, Source, Brazil
SoureThe 100,000 inhabitants of the island are distributed over seven communes, the largest of which is Soure (pop. 20,000). The town, in Marajó Bay, has several beaches on the river - Araruna (2km/1.3mi from the town), Pesqueiro (13km/8mi), Caju Una (15km/9.3mi). Small carts drawn by buffaloes are characteristic features of the town and of the island as a whole. There are hotels and fazendas with accommodation for visitors, which also run trips for visitors in the surrounding area. The carimbó and the lundú are two native dances which all visitors should try to see.
Buffalo Farm
Buffalo farmSeveral buffalo farms (fazendas) let rooms to visitors. They can be reached from Soure or direct from Belém by air taxi. Shooting is prohibited, but the island offers visitors the attractions of photo-safaris and fishing in the igarapés and lakes.
Chaves
ChavesIn the north-west of the island is Chaves, with a 6km/4mi long beach of fine sand bordered by ancient trees. The boat trip from Belém takes about three days.
Joanes
JoanesThe Praia Joanes, reached from Soure by boat (6 hours), ranks as the finest beach on Marajó. During the school holidays it is very crowded.
Map of Belem Attractions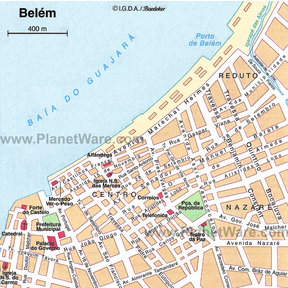 Belem Map
More Belem Attractions
Popular Destinations Nearby