Shivta
Subeita
Situation and characteristicsThe ancient city of Subeita, now known as Shivta, lies 55km/34mi southwest of Beersheba, on the south side of the road to the Egyptian frontier. Here can be seen the ruins, some of them astonishingly well preserved, of a Byzantine city of the fifth and sixth centuries, with three monastic churches, dwelling-houses, water cisterns and paved streets, which was still inhabited in Arab times.HistorySubeita, lying between Avdat and Nizzana, was built by Nabataeans in the first century B.C. An unfortified town, it was taken over by the Byzantines and so radically altered and rebuilt that the British archeologists who excavated the site in 1934 found no Nabataean but almost exclusively Byzantine remains.In 2005 Shivta was designated a UNESCO World Heritage Site as part of the Incense Route and Desert Cities in the Negev.
Related Attractions
The Site
On entering the site of Shivta, which now lies within a National Park, we come first to the South Church, a three-aisled basilica with the apses still standing. To the left of the porch is the baptistery, with a cruciform font. Built against the church is a mosque dating from the seventh century.A little way north of the church is the council house ("town hall"), which stands at the intersection of two streets. Taking the street to the left, we come to the Middle Church, also three-aisled, of which only a few sections of wall and the south apse survive. Continuing north, we come, just before the North Church, into the craftsmen's quarter, with a baker's oven or potter's kiln and other workshops.Adjoining the North Church, which again is three-aisled, are conventual buildings. Next to the church are a baptistery, with steps leading down to the large immersion font, and a chapel, so that there are no fewer than five completely preserved apses standing side by side. At the entrance is part of an entablature with the chi-ro monogram and the Greek letters alpha and omega.
Nizzana
17km/10.5mi southeast of Shivta is the site of Nizzana, another Nabataean town which continued to exist in Byzantine and Arab times until the ninth century. Excavations here in 1935 brought to light churches and other buildings. One of the churches has a mosaic pavement. Near the Bedouin well of Auja el-Hafir the Turks built a frontier post in 1907, and during the period of the Mandate the British authorities sited a prison camp here. In 1948 the Egyptian army used Nizzana as a base for an attack on Beersheba.
Map - Shivta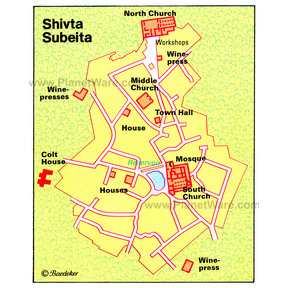 Map - Shivta
Map of Beersheba Attractions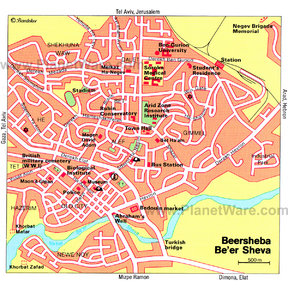 Beersheba Map
More on PlanetWare