Basel to Kaiseraugst
This driving tour takes in the village of Augst, the Roman colony of Augusta Raurica and the little town of Kaiseraugst.
Related Attractions
Augst - Roman Museum
Leave Basle on the east and join the highway (N2/N3) which crosses the Rhine. After crossing the river Birs we arrive in 3.5km/2mi at the exit for the Basle suburb of Birsfelden, on the north bank of the Rhine. Here there are port installations and a power station built in 1950-55 (visitors' gallery). We continue along the south edge of the Hard forest and through a tunnel, beyond which the southern slopes of the Black Forest can be seen on the left. 6.5km/4mi: Liestal-Augst exit. 6km/4mi south is Liestal; 1km/0.5mi north is Augst (alt. 275 m/902ft), on the left bank of the Ergolz, which here flows into the Rhine and forms the boundary between the cantons of Basel-Land and Aargau. In Griebenbacherstrasse a Roman museum has exhibits from Augusta Raurica and the silver treasure from Castle Kaiseraugst (public transit directions/opening hours given).
Augst - Augusta Raurica
A short distance uphill from Augst (signposted) is the site of the Roman colony of Augusta Raurica, founded about 27 B.C., with a large theater and the remains of several temples. At the near end of the site, on the left, is a reconstruction of a Roman house (1953-57) containing a museum. To the right is the theater (restored: performances in summer), and beyond this to the east the site of a temple, the main forum and a basilica. On a hill west of the theater are the remains of a large temple, and to the south a residential district. Southwest of the main complex is an amphitheater discovered in 1959.
Kaiseraugst
1km/0.5mi northeast of Augst beyond the Ergolz, beautifully situated on the banks of the Rhine, the little town of Kaiseraugst has the remains of a Roman fortified post. On the Rhine is the Augst-Whylen power station (1907-12), which has a dam 212 m/696ft long, and the Kaiseraugst nuclear power station which was finally halted in 1989 after years of strong opposition.
Map of Basel Attractions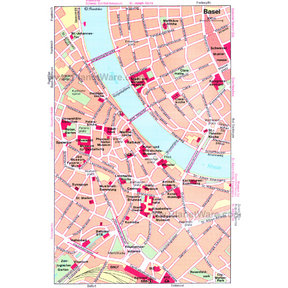 Basel Map