Rambla dels Flors / Rambla de Sant Josep, Barcelona
On its northwestern side the Plaça del Boqueria adjoins the Rambla de Sant Josep. This is where the colorful flower market is held each morning, and which has given it its popular name of the "Rambla dels Flors". On the left side are the market hall, and the Palau de Virreina. At the junction of the Rambla and the Carrer del Carme looms the sombre and heavy facade of the Eglesia de Betlem, once the Jesuit church.
Related Attractions
Mercat de Sant Josep (Mercat de la Boqueria)
On the southwest side of the Rambla dels Flors, where in the morning the colorful flower market is held, and directly next to the Palau de la Virreina is the large Mercat de Sant Josep (also called the Mercat de la Boqueria), the oldest and most important market hall in Barcelona and the one which is most worth visiting. It was opened in 1840 and offers an impressive and colorful range of goods including fruit, vegetables, meat, regional sausages. In the center of the hall is the fish market. At other stalls snacks can be obtained.
Pla de l'Os
Opening out in front of the Mercat de Sant Josep is the Pla de l'Os, which forms part of the Ramblas. The name means "Bear Square" and even today gypsies occasionally can be seen with their dancing bears. In the street paving is a ground mosaic (1976) by Joan Miró. Opposite lies a rather irreverently flamboyant building with an umbrella and a large Chinese dragon forming part of the facade.
Palace of the Vicereine
The Palau de la Virreina in Barcelona was built between 1772 and 1777 as a residence for Manuel d'Amat i de Junyent, then viceroy in Peru, and named after the vicereine, who continued to live here after his death until 1791. The facade displays Classical features, while the interior is Late Baroque.Nowadays the building is the headquarters of the Ajuntament's department of culture, featuring changing exhibitions and offering tickets for municipally sponsored events.
Map of Barcelona Attractions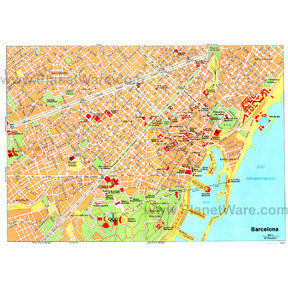 Barcelona Map
More Barcelona Attractions