Parc Güell, Barcelona
In the Vallcarca district of Barcelona, between Eixample and Tibidabo, on the side of a hill lies Parc Güell, laid out between 1900-14. It was designed by Antoni Gaudí, who also had his house here. The rather difficult climb can be avoided by taking the escalator on the right of the Avinguda de l'Hospital (to the northwest of the Lesseps metro).Along the southeastern wall (Carrer Olot) some brightly-colored majolica medallions spell out the name of the park.
Important Information:
Address:
Carrer d'Olot, E-08024 Barcelona, Spain
Opening hours:
Mar 1 to Mar 31:
10am-7pm
Apr 1 to Apr 30:
10am-8pm
May 1 to Aug 31:
10am-9pm
Oct 1 to Oct 31:
10am-7pm
Nov 1 to Feb 28:
10am-6pm
Disability Access:
Full facilities for persons with disabilities.
Guides:
Guided tour available as optional extra.
Transit:
Metro: Lesseps, Vallcarca.
Close by the entrance, with its beautiful iron gate, is a porter's house built in a fluid style, decorated with a tower and largely covered in colored majolica. This is at the bottom of a twin set of symmetrical steps leading up to a hall with columns. It is divided by a fountain, with the main emphasis on a brightly-colored salamander-like animal in majolica.The columned hall to which the steps lead displays elements of the Greek Doric style; the outside rows of columns lean noticeably inwards, to counteract the sideways force exerted by the vaulted roof. Between the capitals of the rather gloomy and archaic-looking columns can be seen some rich polychrome decoration made of ceramic and glazed mosaics. On the roof of this hall a wide, flat area has been laid out, the surrounding wall of which forms a long, wavy seat. This curved wall-line results in a number of individual, semi-closed conversation seats. Here visitors can observe the original decoration of multi-colored ceramic fragments which completely covers the seats. The terrace offers a panoramic view of the city and the sea.In the park are a number of other features designed by Gaudí: colonnades, viaducts, grottoes, etc.
Related Attractions
Casa Museu Gaudí
The house in which Antoni Gaudí lived from 1906-25 stands in the middle of the park. It has been converted into a museum containing some original drawings, items from the estate and the like.
More Parc Guell Pictures
Map of Barcelona Attractions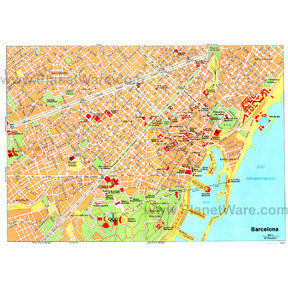 Barcelona Map
More Barcelona Attractions