Other Sights
Related Attractions
Plaças de Toros (Plaças de Braus)
Barcelona possesses two bullrings (known as Plaças de Toros or Plaças de Braus). One, "Les Arenes" (Gran Via 385), adjoins the Plaça d'Espanya, while the other, "La Monumental", lies at the northeastern end of the Gran Via (No. 747) and the Plaça de les Glóries, where Gran Via and the Diagonal cross.
Les Arenes
The wide, circular "Arenes", 52m/172ft in diameter, and with seats for some 15,000 spectators, was built around 1930. No bull-fights are held here nowadays. You should note the large butterfly made from multi-colored china mosaics on the front of the Casa de la Papallona" near the arena (architect: Josep Graner i Prat).
Monumental
The "Monumental" is the only ring where bullfights ("corridas") are still held. It also has a bullfighting museum.
Museu Taurí
The Museu Taurí is a collection of heads from famous bulls. The museum also features posters and clothing which shows the evolution of the bullfighter's dress.
Park of the Laberynth
The Park of the Laberynth (named after a maze at its centre) stands on a hill overlooking the city. It was begun in the late18th C and was fully restored in the late 20th C. It has the character of a 19th C Mixed Style garden. There is a Box Garden, a Square of Lions, a Romantic Canal (1853), an Island of Love and formal beds.
Parque de la Ciudadela
The park was laid out on the ruins of the old citadel in 1868. It contains a variety of fine specimen trees like cedars, magnolias, tree yuccas, limes and paulownias. There are sculptures by Catalan artists, a great cascade and lake in both formal and informal sections.
El Laberinto de Horta
El Laberinto de Horta is situated on a hill. The garden is in late 18th C, neo-classical style, with an elegant sculpture, summer house, maze, balustraded staircases, grotto, pool and temples.
Labyrinth Park
Labyrinth park is adorned with statues of various mythological figures. Stairways join the multiple levels of the park which was built in 1791.
Museu de Carruatges del Foment
The Museu de Carruatges del Foment contains a collection of carts, wagons, and barouches. Also featured are clothing worn by coachmen and accessories for horses.
Avenida Diagonal
Avenida Diagonal is the main avenue in Barcelona. Diagonal crosses the city, which gave it the name Diagonal, and reaches to the sea. There are many boutiques and shops to be found.
National Theatre of Catalonia
The Teatre Nacional de Catalunya, located at the eastern end of the Diagonal, looks like a post-modern version of the Acropolis designed by Ricardo Bofill.
Collection of Fire Brigade Uniforms
Collection of Fire Brigade Uniforms.
Museum of Funeral Carriages
The museum displays a collection of funeral carriages.
North Station Park
North Station park contains various sculptures mostly by Beverly Pepper.
Metro
Barcelona operates a full metro which opened its first line in 1924. There are 71.7km of track most of which is underground. There are 99 stations on four lines.Trains run every three and a half minutes during peak and every four and a half minutes during off peak hours. Trains run from 5:00 until 23:00 on weekdays and until 01:00 on Friday and Saturday nights.The 3.4km central section of Line 2 was scheduled to open in 1995, but the planned extension to Palau Nacional on Montjuic mountain is now unlikely to go ahead because of the high cost of tunneling. A surface light rail line has been proposed as an alternative, which would also serve Barcelona's industrial free zone.
Map of Barcelona Attractions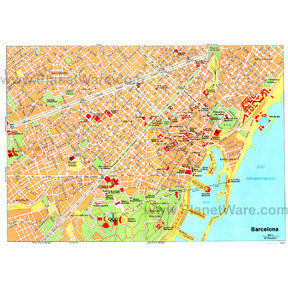 Barcelona Map
More Barcelona Attractions