National Palace, Barcelona
Palau Nacional
Some distance from the Plaça d'Espanya, above the Exhibition Grounds, at the top of a wide flight of steps, stands the giant domed and architecturally somewhat overornate Palau Nacional, which has been the home of the Museum of Catalan Art since 1934. The palace, originally built for the World Exhibition of 1929, has been revamped by the Italian architect Gae Aulenti.
Important Information:
Opening hours:
Always closed on:
Our Lady of Mercy Celebrations - Spain (Sep 24), Catalunya Day - Spain (Sep 11)
Transit:
Metro: Placa d'Espanya; Bus: 6.
National Palace Highlights
Museum of Catalan Art
The Museu d'Art de Catalunya, with its splendid collections covering all periods of the history of Catalan art, is one of the most important places to visit in Barcelona.

Museum of Catalan Art - Department of Romanesque Art
The world-ranking Department of Romanesque Art (11th-13th C.) is particularly impressive. Here can be seen magnificent frescoes from many churches in the Pyrenean region of Catalonia. For this purpose, vaulted ceilings and apses from the original sites have been exactly reproduced with the wall-paintings incorporated in them, while faithful copies of the originals have replaced them in the churches from which they were taken. Photographs, ground-plans and drawings of the churches concerned accompany the exhibits. Particularly noteworthy is the room with apses from Burgal and Santa Maria d'Aneu facing each other. Also worth seeing are the frescoes from Tahull, with the nave of the local church of Santa Maria completely reproduced. Note also the liturgical articles, altar-pieces, pillar capitals and sculptured figures.
Museum of Catalan Art - Department of Gothic Art
The Department of Gothic Art (14th and 15th C.) is partly arranged systematically rather than chronologically. Its collections are not limited to Catalonia, but also include works from other regions of Spain. On display are wooden and stone sculptures, altar-pieces (including a massive 14th C. Altar to Or Lady by members of the Serra family of artists who worked in Barcelona between 1357 and 1405.
Museum of Catalan Art - Department of Renaissance and Baroque Art
This relatively small department contains items from other areas of Spain as well as from the Spanish Netherlands.
Map of Barcelona Attractions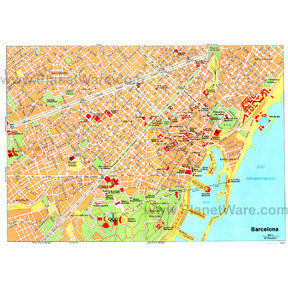 Barcelona Map
More Barcelona Attractions