Casa Batlló, Barcelona
The Casa Batlló, situated at the crossroads of the Passeig de Gràcia and the Carrer Aragó, was designed by Antoni Gaudí for the textile manufacturer Josep Batlló i Casanovas and counts as one of the most famous buildings of the Modernist school.The appearance of the facade is characterized by an ornamental structure which seems to have departed completely from any received principles of architecture. The window frontage on the first floor is bordered by freely swinging shapes some of which suggest plants, others entrances to caves. Above that the facade is covered with glazed ceramic tiles in green, blue and ochre colors. The small balconies have railings made out of beaten steel. The wave-shaped roof has, like that of the Casa Milà, a large number of richly decorated chimneys. Parts of the interior fittings, which were likewize designed by Gaudí, can be seen in the Museu Gaudí.
Important Information:
Address:
Passeig de Grácia 43, E-08007 Barcelona, Spain
Opening hours:
9am-8pm
Always closed on:
New Year's Day (Jan 1), Christmas - Christian (Dec 25)
Entrance fee in EUR:
€16.00
Related Attractions
Mansana de la Discòrdia
On the left of the Casa Batlló protrudes the Casa Ametller (1900), a house built by Josep Puig i Cadafalch in Neo-Gothic forms, and at the southeastern end of the street intersection (the crossing with the Carrer Consell de Cent) stands the Casa Lleó Morera (1905; recently restored and now the premises of the Patronat de Turisme de Barcelona), the work of Lluís Domènech i Montaner. Because of the unconventional and totally distinctive character of each of the three buildings, the group is referred to as the "mansana de la discòrdia" ("apple of discord"), where the play on words depends on the double meaning of the word "mansana" ("block of houses" as well as "apple").
Map of Barcelona Attractions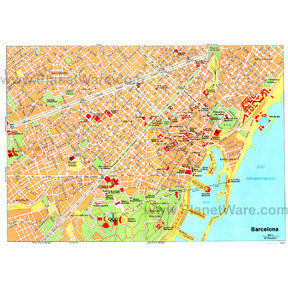 Barcelona Map
More Barcelona Attractions