Markets, Bangkok
Every day between sunrise and sunset, and in some cases long into the night, numerous markets are held in Bangkok and on its outskirts. Between them they supply most of the inhabitants' daily needs in the way of fresh vegetables, livestock (e.g. chickens and fish), clothing, textiles and other goods. Especially on Fridays and Saturdays when housewives shop for the weekend, these daily markets are every bit as colorful, bustling and full of interest and atmosphere as the big weekend market.Only a few of the markets can be mentioned here, but the others can be easily found.
Related Attractions
Chatuchak Market
For some years now Bangkok's big weekend market has been held at Chatuchak on the northern edge of the city, having moved from its old site on Sanaam Luang, near the Grand Palace. It nevertheless remains a huge attraction, not least for many thousands of tourists. The variety of goods on offer seems almost endless, and as well as the numerous stalls there are restaurants and snack vendors. As early as the Friday evening locals start arriving from far and wide by bus, car or train. Be careful when buying "antiques"; most are simply clever reproductions.
Tha Thewes Market
Every type of flower grown in Thailand is found on sale in Tha Thewes market. From early in the morning often until late at night, scores of children lovingly and dexterously weave the garlands for which the country is famous, selling them to tourists, taxi drivers and even locals for just a few bahts. In this way they make a contribution to the household budget from a very early age. Tha Thewes is one of the few markets actually on the Menam Chao Phraya embankment. Orchids in rare abundance, jasmine, hibiscus and lotus blossom are a joy to the senses, their scent drifting over the marketplace, while a multitude of garden and tropical forest plants combine in a verdantly luxuriant display.
Bangrak Market
Mutton is still sold "on the hoof" at Bangrak market (between Sathorn Tai Road and Silom Road) though trading takes place very early in the morning. The market is also well worth visiting later in the day however. Most of the fruit and vegetables are snapped up by the larger Bangkok hotels, taking advantage of the wide range of fresh produce available. This is a general market catering for all the Thais' daily needs.
Nakhom Kasem Market
Notorious many years ago for the dubious origin of its merchandise, the Nakhom Kosem ("Thieves' Market") in the center of Chinatown still rather relishes its earlier bad reputation. The market should certainly be visited, if only for the unparalleled variety of goods on sale. Among the innumerable reproductions collectors with patience and a keen eye still have a chance of discovering a genuine antique, worth far more than its asking price. Nakhom Kasem is at its busiest in the evenings.
Klong Toey Market
Klong Toey market is one of the cheapest in Bangkok, being situated away from the city center and catering more for the needs of the poorer inhabitants. The traders display their wares in a somewhat haphazard fashion, fish being sold alongside clothing for example, but there is always a wide range of goods to choose from. Be warned though: some of the smells can be rather overpowering.
Patpong Road
With Patpong Road, hub of Bangkok's nightlife, being closed to traffic in the evenings, several dozen street traders now set up stalls there. Beware though of pickpockets, they are very active - as indeed they are in all the markets.
Silom Road Market
Every evening Silom Road is transformed into a big street market, with a huge variety of merchandise and a large number of open-air restaurants and snack vendors whose food can be safely sampled without the least qualms.
Map of Bangkok Attractions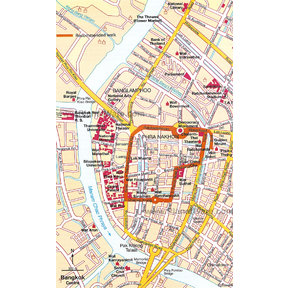 Bangkok Map
More Bangkok Attractions
Popular Destinations Nearby