Marble Temple, Bangkok
Wat Benchama-bo-bitr
Benchama-bo-bitr, popularly called the Marble Temple, is one of the loveliest wats in Bangkok. It was erected in about 1899 by King Rama V (Chulalongkorn), the snow-white marble being shipped to Thailand from Tuscany in Italy. Thais also refer to the wat as "The Wat of the Fifth King", Rama V, crowned soon after his 20th birthday, having spent part of 1873 as a "bikkhu" (monk) in the old monastery south of the temple.
Useful tips:
Admission charge.
Related Attractions
Bot
The bot is cruciform in plan, its shape being enhanced by simple marble columns. At the rear is a courtyard, paved in squares of marble, around which runs a covered gallery with more than 50 statues of the Buddha. The courtyard, the epitome of harmony and symmetry, accentuates the sweep of the triple-tiered roofs and gold ornamental nagas on the gables while the exuberant ornateness of the older temple buildings in no way detracts from its dignity. Portrayed on two of the four elaborately carved gables, which also illustrate the origins of Buddhism, are the Hindu god Vishnu astride Garuda (east gable) and the three-headed white elephant Erawan (north gable).A pair of lions in white marble, seated in the Burmese style, guard the main entrance to the bot; the building, though, is usually entered via the courtyard at the rear. The golden Buddha on the main altar is a full-size copy, made on the instructions of King Chulalongkorn, of the much revered Phra Buddha Jinarat ("Victorious King") from Wat Phra Si Ratana Mahathat in Phitsanulok. The Buddha figures around the courtyard illustrate every aspect of the evolution of Buddhist religious art. At the feet of each is a marble plaque recording its period and provenance, including whether it is original or a copy.
Festival of Visakha Bucha
The best time of all to visit the Marble Temple is during the Festival of Visakha Bucha in mid-May, when pilgrims dance three times around the bot holding thousands of flickering candles.
Map of Bangkok Attractions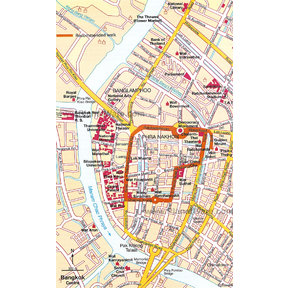 Bangkok Map
More Bangkok Attractions
Popular Destinations Nearby