Gmunden Tourist Attractions
The chief place on the Traunsee, Gmunden (440m/1,444ft; pop. 13,000), at the northern end, is a picturesque little town with a number of castles. It has a well-known ceramic manufactory and attracts many visitors both as a health resort and as a convenient staging point. The town center lies near the bridge over the River Traun. The parish church of the Assumption, originally Gothic, was remodeled in Baroque style in the 18th C.; it contains a carved group of the Three Kings (by Thomas Schwanthaler, 1678) on the high altar, and a ceramic "Madonna of the Cloak". The Rathaus (16th-17th C.) has arcades and loggias and a ceramic carillon. The 15th C. Late Gothic "Kammerhof" houses the Municipal Museum, with rooms devoted to Hebbel and Brahms and a gallery displaying art of various kinds and periods.
Ort
A little way southwestward of Gmunden lies the parish of Ort, with Schloss Ort (17th C.) on a small island in the lake; the "Seeschloss" was once the property of Archduke Johann Salvator ("Johann Orth"), who disappeared in South America in 1891, and now houses the Forestry Office. The castle, with a beautiful arcaded courtyard, is connected - via the Toscana peninsula - with the mainland by means of a wooden bridge 130m/140yds long. The "Landschloss" (now a Federal School of Forestry) stands on the above mentioned peninsula; its four wings enclose a courtyard with a wrought iron fountain. Near the Landschloss will be found the Gmunden-Toscana Congress Center with a park.
Traundorf
On the right bank of the Traun lies the district of Traundorf, in the north of which stands Schloss Cumberland (1882-86; now a sanatorium), built by the last King of Hannover to house the Guelph Treasure.
Gmunden Festival
This annual three-week festival takes place from mid-August to early September and includes a wide variety of concerts, including orchestral, chamber and instrumental. There are also theater performances, readings and exhibitions.
Map of Gmunden Attractions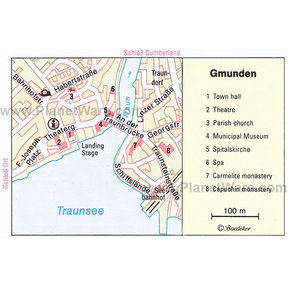 Map - Gmunden