Durnstein Tourist Attractions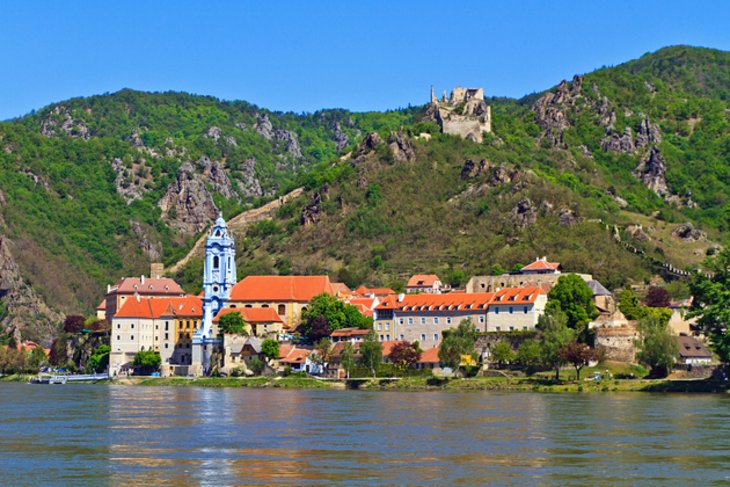 Durnstein
Dürnstein, the "Pearl of the Wachau" (220m/722ft; pop. 1,100), is the most popular tourist attraction in the Wachau. The little town is enclosed within a triangle of walls and towers, the walls winding up to the ruined castle 150m/490ft above the town. The Augustinian monastery, founded in 1410 and dissolved in 1788, is a masterpiece of Baroque architecture.
Opposite lies the pleasant little market town of Rossatz.
Parish Church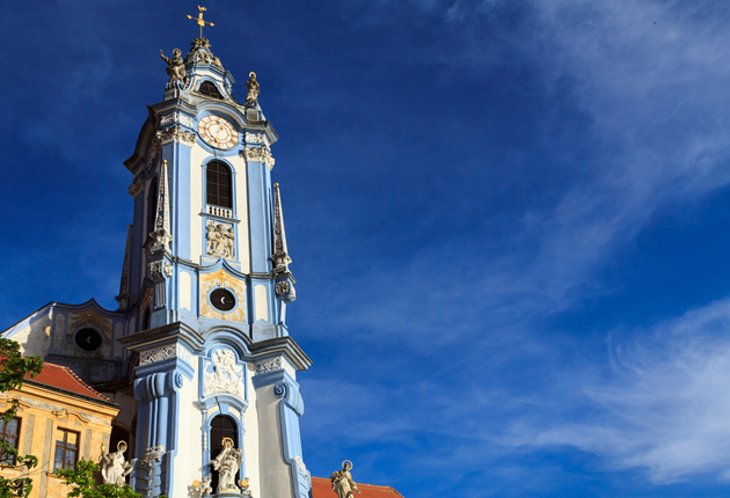 Parish Church
The monastic church at Dürnstein, now the parish church, was built in 1721-25 by J. Munggenast, J. Prandtauer and others. It has one of the finest Baroque towers in Austria, a prominent landmark of the Danube valley, and a magnificent main doorway in the courtyard. The interior (conducted tour) has beautiful stucco reliefs on the ceiling, altarpieces by Kremser Schmidt (1762) in the central side chapels, a richly carved pulpit by his father Johann Schmidt and fine choir stalls. On the west side of the church is a Baroque cloister with a large Christmas crib (Nativity group) by Johann Schmidt (c. 1730). To the south of the church lie the ruins of the mid-14th C. Klarissenkirche (Church of Poor Clares). The Renaissance Schloss (1630), directly above the Danube, is now a hotel. By the Kremser Tor (Krems Gate) a short flight of steps leads up to the graveyard, with the remains of the Early Gothic Kunigundenkirche (13th C.) and a 14th C. charnel house.
Dürnstein Castle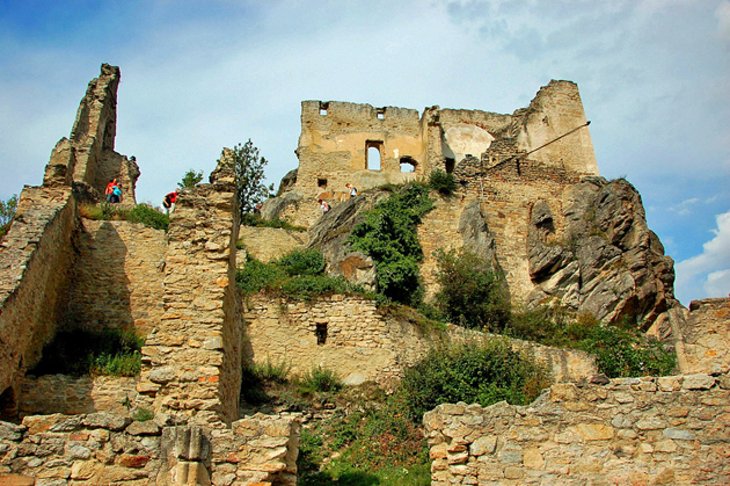 Durnstein Castle
From Dürnstein a flight of steps (half an hour's climb) ascends the hill to the massive ruins of the 12th C. Dürnstein Castle (destroyed by the Swedes in 1645). Here in 1193 Richard the Lion-hearted was imprisoned by Duke Leopold VI of Austria, with whom he had quarreled during the Third Crusade; and it is here that the minstrel Blondel is said to have discovered his master. There is a magnificent view from the castle.
Popular Pages