Surroundings, Cairns
Cairns is an excellent base for day trips and longer tours in the highlands to the southwest (Atherton Tableland, with rain forest reserves, waterfalls and fine viewpoints). A trip on the steep historic railroad line through the Barron Gorge to Kuranda is a memorable experience.Since the Great Barrier Reef runs very close to the coast in the far north of Queensland, making the reef and its islands (Green, Fitzroy and Frankland Islands) easy to access, Cairns is a favorite starting point for visits to the reef. A variety of boats, fast catamarans, hydrofoils and helicopters ferry hosts of day trippers, holidaymakers, scuba divers and snorkellers every day. There are also occasional cruises to Cooktown in the inaccessible north and Thursday Island, off the northernmost tip of Queensland. Also on offer are railcar tours to Savannah Gulf and the coasts of the Gulf of Carpentaria. From Cairns one can also visit the rugged territory of the Cape York Peninsula or the Tyrconnel Historic Gold Mine.
Useful tips:
During the summer, cyclones, heavy monsoon rain and high temperatures are to be expected. A trip into the uninhabited Cape York Peninsula is still an adventure which calls for careful preparation. The safest way to travel in territory of this kind is to join one of the safari tours run by agencies in Cairns. On many beaches you have to watch out for saltwater crocodiles. Tours by arrangement.
Related Attractions
Barron Gorge National Park
2780ha.The beautiful tropical rain forest with the spectacular waterfalls on the Barron River and its tributaries was recently made a UNESCO World Heritage Site. The best way to see this unspoiled natural scenery is by taking a trip on the Kuranda Scenic Railway or the Skyrail cableway. A particularly striking feature is the waterfall on the Barron River, which pours down from a height of 260m.
Green Island National Park
13ha.Although this tiny flat island has an area of only 13 ha, the island and its surrounding reefs cover an area of 3000ha. It is covered with dense tropical rain forest vegetation. There are walking trails around and through the island, from which many sea birds can be observed.A good way of viewing the beauty of the coral reefs and the colorful tropical fish is from a glass-bottomed boat. There is also an underwater observatory and an aquarium.The neighboring coral island, Michaelmas Cay, is the nesting place of many thousands of sea birds - one of the largest colonies of birds on the Great Barrier Reef.
Fitzroy Island
Little Fitzroy Island (4 sq.km) lies near the coast and has hills rising to over 260m. It was named by Captain Cook in 1770 after Augustus Fitzroy, Duke of Grafton. The island is a popular destination for day trips from Cairns (diving on banks of coral, walking, fishing). There is a striking lighthouse.
Surroundings Pictures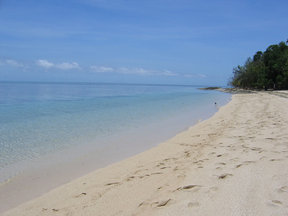 Map of Cairns Attractions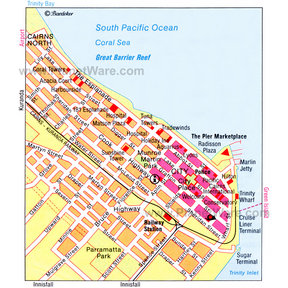 Cairns Map
Popular Destinations Nearby