Cairns Tourist Attractions
Top Tourist Attractions in Cairns
Cairns (pop. 68,000), the most northerly town in Queensland, was founded in 1876 as a supply port for the Hodgkinson goldfields and the tin mines in the interior.
Flecker Botanic Gardens
Cairns' principal attraction is the Flecker Botanic Gardens. Originally laid out in 1886, they contain large numbers of tropical plants, including over 100 species of palm. Footpaths through the gardens lead to a patch of rain forest on Mount Whitfield, from which there are magnificent views of the town and the coast. The Centenary Lakes (Greenslopes Street, Cairns North) were created in 1976, the town's 100th anniversary, as an extension of the Botanic Gardens.The city of Cairns is working on redeveloping the gardens.
Cultural Centre
The Cairns's Cultural Centre consists of the Cairns Museum and Art Gallery, and the Library, all housed in the former School of Arts (1907), a building in the style characteristic of the Australian tropics.
House on the Hill
The House on the Hill was built in 1895 by Mayor RA Kingsford, grandfather of the aviator Charles Kingsford Smith. This handsome building on a hillside amid tropical forest was used during the second world war as a military headquarters.
Pier Marketplace
The modern Pier Marketplace has fine views of Trinity Bay and a wide choice of shops. Here too is the landing stage used by most of the excursion boats to the Great Barrier Reef.
Royal Flying Doctor Base
At the Royal Flying Doctor Base visitors can see exhibitions and presentations illustrating the history and the work of this vital service in Australia's thinly populated interior.









Map of Cairns Attractions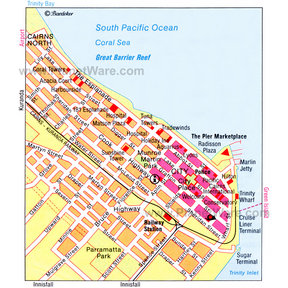 Map - Cairns