Hauraki Gulf
The Hauraki Gulf, enclosed by Northland, the city of Auckland and the long northward-reaching Coromandel Peninsula, is scattered with numerous islands and islets. The gulf is a favorite sailing area and also offers good fishing.
Related Attractions
Hauraki Gulf Islands
There are boat trips to some of the islands in the Hauraki Gulf, particularly Rangitoto, Waikehe and Pakatoa.
Hauraki Gulf Maritime Park
Much of the gulf and some of the islands are included in Hauraki Gulf Maritime Park, which is home to numerous endangered species of birds, insects and marine creatures. A special permit is usually necessary to visit the islands, and then only on a day trip.
Rangitoto
This volcanic island was likely still active at the time of the Polynesian settlement of New Zealand, for there are no remains of any fortified Maori settlements. This beautiful island with its rolling hills, lying directly off Waitemata Harbour, was purchased by the government in 1857 and ever since has been a popular excursion. From the highest point on the island (260m) there are marvelous panoramas. Rangitoto is now a nature reserve and part of Hauraki Gulf Maritime Park. There is a ferry service from Auckland.
Pakatoa
East of Waiheke is the small island of Pakatoa, also popular for holidays.
Motuihe
Motuihe (area 180ha), lying within easy reach of Auckland, attracts many people from the city on day trips. During the first world war there was a camp for internees and prisoners of war on the island. One of the prisoners was Count Felix von Luckner, who made a daring escape from the camp during a Christmas party, seized the camp commandant's yacht and, sailing under the German flag, got as far as the Kermadec Islands before being recaptured.
Kawau
This island, on which copper was once mined, was purchased in 1862 for £3700 by Governor Gray, who converted the mine manager's house into a mansion for himself, surrounding it with a kind of Garden of Eden containing exotic plants and animals. The house, restored and furnished in period style, can be visited. There are boat services to Sandspit and Snells Beach.
Great Barrier Island
Great Barrier Island (area 28,000 ha; pop. 600) was so named by Captain Cook because it barred the entrance to the gulf. Once inhabited by loggers felling kauri trees, gold prospectors and copper miners, the island is largely regenerating native bush with significant native forest areas and a wide range of ecosystems such as inland harbours, wetlands, dune systems and a mountainous interior. At the end of the 19th C. letters were conveyed from the island to the mainland by carrier pigeon.
Little Barrier Island
Now a strictly controlled nature reserve, Little Barrier Island is a refuge for rare species of birds and plants.You can only visit the island with special permission from the Department of Conservation.
Goat Island
This tiny islet (9ha) lies just north of Cape Rodney. On the island is the Marine Biology Research Institute of Auckland University.
Tiritiri Matangi
The little island of Tiritiri Matangi (207ha) lies off Whangaparaoa and has a lighthouse. Formerly grazing land, it is now a nature reserve, to which natural forest is gradually returning. There is a good sandy beach, but apart from this the coast is extremely steep. The island can be visited only during the day.
Motukorea (Brown Island)
This island, an eroded cone of volcanic lava and scoria, lies immediately off the mouth of the Tamaki River next to Auckland. John Logan Campbell and William Brown established their first farm here before moving to One Tree Hill in Auckland. The island is part of the Hauraki Gulf Maritime Park and can be visited only during the day. A landing should be attempted only at high tide, since at other times there may be dangerous shallows.
Map of Auckland Attractions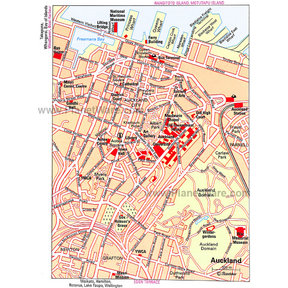 Auckland Map
More Auckland Attractions
Popular Destinations Nearby