Auckland Domain
To the southeast of the city center is the Auckland Domain, an extensive recreation area with various leisure facilities and sports grounds.
Related Attractions
Auckland Museum and Institute (War Memorial Museum)
On the highest point in the Domain is the imposing War Memorial Museum. From the steps in front of the museum there are magnificent views over the city center and Waitemata Harbour.This neoclassical building was erected in 1929 as a memorial to the New Zealand soldiers who fell in the first world war and to house the collections of the Auckland Museum, originally established in 1852. Extensions were added in the 1960s.The War Memorial Hall commemorates the dead from all the wars in which New Zealand soldiers fought.The museum itself contains rich collections of material on the natural and cultural history of the south Pacific and the history of the city of Auckland.The Maori Court, a richly decorated meeting house of 1878, came from the Thames region. The magnificent Maori doorway came from Rotorua. There is also a fine storehouse with carved decoration. Of particular note is a 25m long canoe dating from about 1836, in which Maori warriors once sailed in Manukau Harbour. There are also fine portraits of Maori chiefs by CF Goldie.On the first floor are collections of geology, natural history, flora and fauna (particularly birds and marine mammals, including a reconstruction of a giant moa) and the seafaring history of New Zealand. Also of interest are craft products (silver, ceramics, glass), old furniture and coins.Attached to the museum is a popular planetarium.
Winter Gardens
The Winter Gardens (greenhouses - tropical and cold), were built for the Auckland Exhibition of 1913. They are now part of Auckland's Botanic Gardens.
Map of Auckland Attractions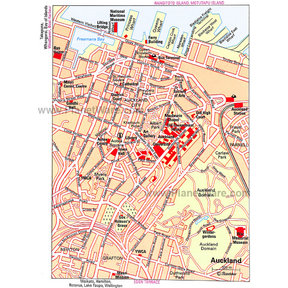 Auckland Map
More Auckland Attractions
Popular Destinations Nearby