St Trophime, Arles
The church of St-Trophime in the Place de la République in Arles, once the cathedral, was founded it is believed in the year 606. Its patron was a Greek disciple who brought Christianity to Provence. In its present form it is a Romanesque basilica, built 1152-80, the interior of which reveals Early Gothic forms.
Related Attractions
St Trophime's Doorway
The recently restored facade of St Trophime in Arles facing the square has a magnificent doorway with some most impressive figures - a masterpiece of Provençal sculpture. It was placed in front of the existing Carolingian building in the 12th century and shows a certain similarity to the doorway of the Church of St-Gilles. On the pillars are figures of saints and Apostle: on the extreme inside of the front on the left is St Trophime being crowned with a mitre by two angels and on the right the Stoning of St Stephen. Above the door in the tympanum can be seen the Last Judgment with glory, surrounded by the symbols of the Evangelists and with the Twelve Apostles at his feet. This frieze is continued on the left and the right in the portrayal of the Last Judgment, with the "chosen" on the left and the "damned" on the right; below on the capitals on the left is the Annunciation and on the right the Birth of Jesus.Both side doorways are considerably smaller than the main doorway and were added in the 17th century. They give access to the rather dim interior. All three aisles are very narrow and high and show the transition from Romanesque to Gothic, the transept being 11th century and the center aisle 12th century. In the first bays on the right and the left hang large Gobelin tapestries. The choir and the choir ambulatory are 15th century High Gothic.
St Trophime Cloisters
The Cloisters of St-Trophime adjoin the church on the southeast. They are accessible through the building to the right of the facade of the church and the courtyard behind it.In the cloisters pillars alternate with columns in pairs, the capitals of which are decorated with fine sculptures of Biblical scenes; on the pillars will be found figures of Apostles and saints, and between them reliefs of stories of Christ and the saints. The 12th century north and east wings are the oldest parts, while the south and west wings date from the 14th century; thus the cloisters reveal both Romanesque and Gothic elements. The Chapter House adjoins the cloisters; in it hang two Gobelin tapestries and in the gallery is a small lapidarium. The other rooms adjacent to the cloisters are used for temporary exhibitions. The stairs leading to the galleries and the rooms above also provide access to the terrace-like roof gallery which encircles the cloisters and provides a charming view of the latter.
Map of Arles Attractions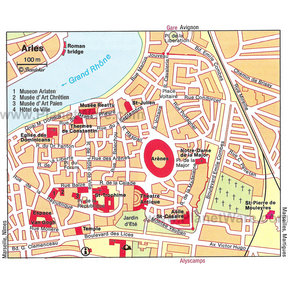 Arles Map
More Arles Attractions
Popular Destinations Nearby