Surroundings, Tucson
The surroundings of Tucson include Saguaro National Park, the Oro Valley and the towns of Oro Valley to the north and Vail and Sahuarita to the south.
Related Attractions
Saguaro National Park
The Saguaro National Park, part of the Sonora Desert, extends east and west of Tucson. The characteristic feature of this desert area, the lowest in North America, is the abundant and varied flora and fauna which flourish in spite of the great heat: the typical saguaro or candelabra cactuses, which are the tallest species in North America, birds like the Gila woodpecker and cactus wren which live on the cactuses, rattlesnakes, desert tortoises and the Gila monster (a large lizard).
Saguaro National Park East
The eastern portion of Saguaro National Park is also known as the Rincon Mountain District. It is about 15 miles from downtown Tucson.
Saguaro National Park West
The western portion of Saguaro National Park is also known as the Tucson Mountain District. It is located about 15 miles from downtown Tucson.
Catalina State Park
Catalina State Park, north of Tucson, is a desert region with picnic areas, hiking and horseback riding trails. Camping, plant and wildlife viewing, and an archeological site are also attractions within Catalina State Park.
Romero Ruin
Romero Ruin is an archeological site located in Catalina State Park. These are the remains of a Hohokam Indian village that was occupied between AD 500 and AD 1450. The site also contains rooms of mud and rock borrowed from the abandoned Hohokam village. These structures were built by rancher Francisco Romero late in the 19th C.
Ironwood Forest National Monument
The Ironwood Forest National Monument encompasses several desert mountain ranges including the Silver Bell, Waterman and Sawtooth, with desert valleys in between. Three areas within the monument, the Los Robles Archeological District, the Mission of Santa Ana del Chiquiburitac and the Cocoraque Butte Archeological District are listed on the National Register of Historic Places.
Colossal Cave Mountain Park, Vail, Arizona
The Colossal Cave in Vail east of Tucson is the largest dry cavern in the world. Parts of it have yet to be explored. Local legend has it that the loot from an old stagecoach robbery is still buried somewhere inside. The town of Vail is located east of Tucson on Highway 10.Colossal Cave Mountain Park also features a museum, butterfly garden, stagecoach rides as well as hiking and horse trails.
Marana, Arizona
Marana, which is Spanish for "tangle" or "impassable", is a quiet community northwest of Tucson. The name describes a region which was once overflowing with mesquite and desert scrub, but was developed when cotton became a major industry in the 1920s and 30s.
Breakers Water Park
Breakers Water Park in Marana is home to Arizona's largest tidal wave pool. There are several waterslides including the Bonzai Pipeline with five slides, Splash Canyon and Captain Kidd's Surfari for small children.
Evergreen Heritage Museum
The Evergreen Heritage Museum in Marana features aviation exhibits, including vintage aircraft from World War II.
Pascua Yaqui Indian Reservation
The Pascua Yaqui Indian Reservation is located 15 miles southwest of Tucson. A variety of scenic drives and recreational opportunities can be found within a one-hour drive of the reservation. The tribe is descended from the Uto-Azteca people, and won a long battle for recognition in 1994.
Picacho Peak State Park (closed June 3, 2010)
Picacho Peak State Park, between Tucson and Phoenix, is centered around Picacho Peak, with a summit of 3,374 feet. This was the site of the Battle of Picacho Pass, the westernmost conflict of the Civil War and the only one to take place in Arizona, in 1862.
Oro Valley, Arizona
Oro Valley, a few minutes north of Tucson, is a residential community that was founded in the early 1870s by George Pusch. George was a German immigrant who started a way station for travelers from Tucson to regions in the north.
Asarco Mineral Discovery Center, Sahuarita, Arizona
The Asarco Mineral Discovery Center is located in Sahuarita, located in Madera Canyon to the south of Tucson north of Green Valley. Exhibits in the Asarco Mineral Discovery Center include hands-on displays about mining and minerals.
Green Valley, Arizona
Green Valley is a retirement community located between Tucson and Nogales. Established in 1964, the town has a population of about 20,000.
Titan Missile Museum
20mi/32km south of Tucson, in Green Valley, is the Titan Missile Museum, where visitors can see Titan II missiles, missile mechanisms, helicopters and a missile silo.
Sierrita Mine
The Sierrita Mine is a copper mine west of Green Valley. It is over 6,000 feet in length and width. Visitors can tour one of the world's largest open-pit mines.
Map of Tucson Attractions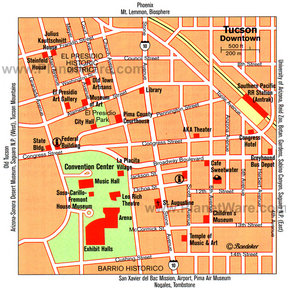 Tucson Map
More Tucson Attractions
Popular Destinations Nearby