Epidauros
Epídavros
Epidauros, the most widely famed sanctuary of the healing god Asklepios, lies in a quietly beautiful setting in the Argolid.In pre-Greek times the god of Maleas (Maleatas) was worshipped on the hill of Kynortion (above the theater, outside the enclosure), and the Greeks equated this earlier divinity with their god Apollo. Then Apollo was joined by his son Asklepios, who had grown up at Trikka in Thessaly.
Opening hours:
Apr 1 to Oct 31:
8am-7:30pm
Nov 1 to Mar 31:
8am-5pm
Always opened on:
Assumption Day - Christian (Aug 15), Óhi Day - Greece & Cyprus (Oct 28)
Always closed on:
New Year's Day (Jan 1), May Day / Labor Day (May 1), Day after Christmas, St Stephen's Day, Boxing Day (Dec 26), Christmas - Christian (Dec 25), Good Friday - Christian, Easter - Christian
Entrance fee in EUR:
Adult €6.00, Concession or reduced rate €3.00, Students from EU FREE, Child 18 & under FREE
Useful tips:
Admission free on Sundays from November to March.
Related Attractions
Stadion
Before reaching the entrance of Epidauros we pass the Stadion, with its tiers of stone seating.
The ancient Theatre at Epidauros is thought to have been built in the first part of the 3rd C. The huge structure can seat 14,000 people and is the location of a summer drama festival.
Epidauros Museum
The Museum at Epidauros includes a partial reconstruction of the Tholos. It shows that the circular cella was surrounded by 26 Doric columns and had 14 Corinthian columns round its internal wall. In the center of the floor, which was patterned in two colors, was an opening leading down to the basement. The elaborate nature of the decoration can be judged from the coffered ceiling, the high quality of the work by the Corinthian capital carved by Polykleitos himself. The other rooms of the museum contain inscriptions, surgical instruments, statues of Asklepios (some of them casts) and architectural fragments from the propylaia and the temple of Asklepios.
Natural History Museum
The Epidauros Natural History Museum includes fossils from all over Greece as well as a complete collection of 240 million year old ammonites from the area of Asklipion in Epidauros.There is also a great variety of minerals from the Laurio area.
Nea Epidavros, Greece
The little harbor towns of Néa and Palaiá Epídavros, with bathing beaches, can be reached by way of Ligourió (each 19km/12mi).
Map - Epidauros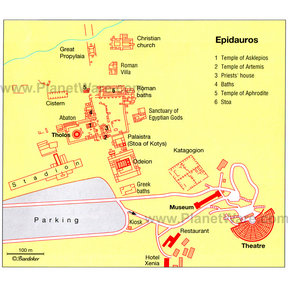 Map - Epidauros
Popular Destinations Nearby