International Port, Antwerp
The Port of Antwerp is second only to Rotterdam among the major seaports of Europe, fully justifying its claim to be one of the largest in the world. The harbor installations alone cover an area of more than 10,000ha/25,000 acres, with a further 3,400ha/9,300 acres of land in industrial use. A total of 124km/77miles of wharves provide berthing for sea-going ships and inland craft, while 387 quayside cranes, 12 floating cranes,19 loading gantries and 20 container hoists handle their cargoes.
Address:
Port house, 1 Entrepotkaai, B-2000 Antwerp, Belgium
Related Attractions
Docklands Tour
The enormous size of the port rules out any attempt to explore it on foot. This leaves the option of joining one of the boat tours or resorting to bicycle or car.Given sufficient time public transport offers another possibility, though not all parts of the port area can be reached in this way. The No. 37 bus goes as far as the Van Cauwelaertsluis and back, the No. 76 much further north to the Zandvlietsluis. But traveling by bus does not always guarantee a close look at the harbor installations.

Map - International Port
Map - Hafen von Antwerpen
Map of Antwerp Attractions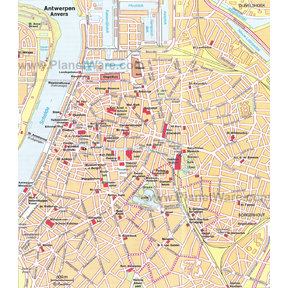 Antwerp Map