In the Vicinity of the Cathedral
Related Attractions
Glove Market
The Put (well) on the Handschoenmarkt, the former glove market in front of the cathedral, has a 15th C. wrought-iron canopy adorned by a figure of Silvius Brabo attributed to Quentin Massys.
Pie Alley
The Handschoenmarkt leads into a street known as the Oude Koornmarkt, off which (at the side of No. 16) runs the Vlaeykensgang, an alleyway of houses dating back to the 16th C. and altogether typical of old Antwerp.
Groenplaats
Immediately south of the cathedral lies the bustling Groenplaats, cafes on every side. The statue of Rubens was erected in 1840.
Antique Market
The Antique Market, located on the north side of the Cathedral at Groenplaats 21, operates every Saturday from Easter until the end of October.
Sint-Carolus Borromeuskerk
Two Jesuit priests named d'Aguillon and Huyssens were the architects of Sint-Carolus Borromeuskerk, built between 1614 and 1621 on Hendrik Conscienceplein, a couple of minutes walk northeast of the cathedral. A devastating fire in 1718 largely destroyed the church, after which it was rebuilt in a less opulent style. Among the decorations lost forever were ceiling paintings, 39 in all, by artists from Rubens' workshop and also by van Dyck. The full Baroque splendor of the original church can now only be glimpsed, primarily in the magnificent, clearly articulated main facade the design of which is attributed to Rubens himself. The 58m/190ft bell tower is considered one of the loveliest in Belgium.
Scheldt Embankment
To left and right respectively at the western end of Suikerrui, the Ernest van Dijckkaai and the Jordaenskaai separate the Old City from the Scheldt, forming a no-man's-land ripe for redevelopment and a challenge for the architects and planners of the "City on the River" project.Antwerp's 100m/330ft-wide quays, built in the 19th C., extend along the river for 5.5km/3.5miles providing berthing for the largest seagoing ships. Considerable areas of the Old City were ruthlessly demolished to make way for them, including sections of the fortress. Running the length of the two quays, above the warehouses, are pedestrian terraces, complete with cafes, from where excellent views are obtained of the busy river, the Cathedral and the Steen.A trip along the Scheldt, or one of the longer tours of the harbor, provides a different kind of alternative to the museums.
Scheldt Embankment Pedestrian Tunnel
A tunnel 572m/625yds long and 31.5m/103ft below the river provides a pedestrian crossing to the west bank of the Scheldt. The entrance (escalator or lift) faces the south end of the southern riverside terrace at Sint-Jansvliet.
Open-air Maritime Museum
The Maritim Openlucht Museum (Open-air Maritime Museum) is comprised of the vessels moored on the left bank of the river, near the western entrance to the pedestrian tunnel.
Map of Antwerp Attractions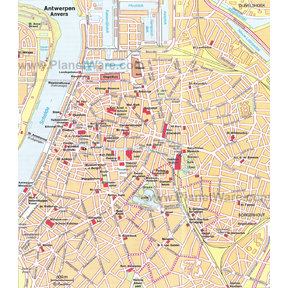 Antwerp Map