Andorra la Vella Tourist Attractions
The capital of the principality, Andorra la Vella (alt. 1,029 m/3,376 m; pop. 23,000), is finely situated on the Gran Valira river under the east side of the Pic d'Enclar (2,317 m/7,602ft).The main street of Andorra la Vella is lined with shops selling hi-fi equipment, cameras, tobacco goods, spirits and perfume in which visitors (mostly day-trippers) can stock up with duty-free goods.
Casa de la Vall
In the center of Andorra la Vella is a plain building of undressed stone built about 1580 which originally belonged to a noble Andorran family and is now the seat of the government, with the courtroom and the meeting place of the Consell General. Over the entrance of Casa de la Vell are the arms of the principality (1761), with the mitre and crosier of the bishop of Urgell, the four pales of Catalonia, the three pales of the Counts of Foix and the two oxen of the Counts of Béarn in its four quarters. The reception room on the first floor has 16th century wall paintings. In the council chamber (Sala de Sessions) is the "cupboard of the seven keys", to which each of the seven communes has a key. It contains the archives of the principality, including documents which are said to date from the time of Charlemagne and Louis the Pious. Before every meeting of the Council the councillors attend a service in the Capilla Sant Ermengol. The large kitchen with its old utensils gives an impression of domestic life in the 16th century.
Andorra le Vella - Caldea
This uniquely designed spa is Europe's largest, covering 6'000 square meters. The complex features inside and outside lagoons, saunas, jacuzzis, a grapefruit pool, an Aztecian pool, Indo-Roman baths, cascades, bubble beds, and warm marble slates.
Plaça del Poble
Plaça del Poble is a public square located on the roof of the Edifici Administratiu Govern d'Andorra. It is a great spot to take in the surrounding scenery.
Sant Esteve Church
The church of Sant Esteve, the town's principal church, dates from the 12th century; it was enlarged in 1969 and has some fine carved woodwork.







Map of Andorra la Vella Attractions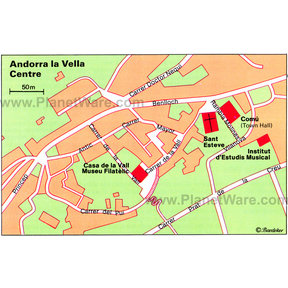 Map - Andorra la Vella Center