Singel, Amsterdam
The Singel was originally a moat, and the city wall ran where the odd-numbered houses now stand. On the other side of the wall lay Amsterdam's vegetable gardens and meadows (the Torensluis is one of the former passages to the gardens). When the city was enlarged and the wall lost its defensive function, it was demolished (c. 1600) and houses were built on the site. A walk along this canal is interesting because of the quaint details that emerge: No. 7 is no wider than a front door and is thus the narrowest house in Amsterdam. The bridge at the corner of the Oude Leliestraat has a cell just above water-level where men and women must have been put (separately) to sober up. Of particular architectural interest are Nos. 140-142, designed by the famous architect Hendrik de Keyser. Banning Cocq, the principal figure in Rembrandt's "Night Watch", lived here for a while.
Important Information:
Transit:
Tram: 1, 2, 4, 5, 9, 16, 24, 25.
Related Attractions
Flower Market of Amsterdam
The flower market on the Singel in Amsterdam is a Mecca for anyone in search of trees, shrubs, plants, flowers or herbs for the home, garden or balcony. Cut flowers and pot plants of every variety, even palms as tall as a man, are offered for sale on the street and on the boats, the whole scene looking like a colorful garden. It is also possible to buy everything imaginable for the garden, such as peat, soil, fertilizer, seeds, tools, watering cans and plant pots.The flower market has not always been on the Singel; in the 17th C. it was held every Monday in the summer in St Luciensteeg, near the present-day Historical Museum. It must have had a huge selection to offer then, too, since one contemporary complained that it was difficult and tiresome to list the names of the shrubs and plants on sale.
Frederik van Eeden Museum
The museum centers on the Dutch writer and social reformer Frederik van Eeden (1860-1932) who in 1898 founded a short-lived community on the lines of his romantic social philosophy.
University Library
To the west of the Munttoren, in the Singel, is the University Library, one of the largest libraries in the Netherlands (over 2 million volumes), distributed among a number of institutes.
Schriftmuseum J.A.Dortmond
Schriftmuseum J.A.Dortmond, named after the collector J. A. Dortmond, illustrates the development of the art of writing from about 3000 B.C. to the present day. The handwriting department contains documentation on the art of writing.The museum is located at the University of Amsterdam.
Press Museum
The Press Museum in Amsterdam has a collection of newspapers, magazines, posters, pamphlets and cartoons dating back to the early 17th C. Temporary exhibitions.
Singel Pictures
Map of Amsterdam Attractions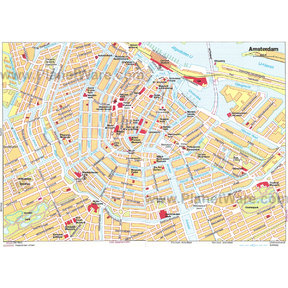 Amsterdam Map
More Amsterdam Attractions