Royal Palace, Amsterdam
Koninklijk Paleis
The Royal Palace on the Dam, formerly the town hall, constitutes an impressive central point of Amsterdam. Nowadays it serves as the Queen's residence when she is in the city. Building began on 20 January 1648 with the sinking of the first of 13,659 piles for the new town hall. Its architect was Jacob van Campen whose inspiration was the architecture of Ancient Rome; the exterior is strictly classical and the interior is magnificently furnished.
Important Information:
Address:
NZ Voorburgwal 147, Netherlands
Opening hours:
Apr 13 to Jun 10:
12:30pm-5pm; Closed: Mon, Fri
Jun 30 to Sep 9:
11am-5pm
Entrance fee in EUR:
Adult €4.50, Students €3.60, Child 16 & under €3.60, Senior over 65 €3.60, Child 5 & under FREE
Guides:
Guided tour included with admission.
Transit:
Tram: 1, 2, 4, 5, 9, 13, 16, 17, 24, 25; Bus: 21, 67.
The apartments are decorated with a wealth of reliefs, ornamentation and marble sculpture by the Flemish sculptors Artus Quellinus and Rombout Verhulst, and with friezes and ceiling-paintings by Ferdinand Bol and Govert Flinck, pupils of Rembrandt. Van Campen was, however, unable to finish the building and Stalpaert took over from him in 1654. Costs had risen so much in the meantime that work on the tower of the New Church had to be suspended. The new town hall with the 51 m (167ft) high tower (carillon) was finally completed in 1665. For about 200 years this imposing building, the greatest work of the 17th C. Dutch Classicism, was the political center of Amsterdam and the republic. In 1808, however, Louis Napoleon, Holland's new king, wanted it for his own residence. His Empire furniture from that time is still one of the finest collections in the world. With the ending of Napoleonic rule the town hall reverted to the city which, however, because of its financial straits, was unable to use it for its original purpose and let it to King William I as a temporary residence. In 1935 the State bought the palace for 10million guilders and had it extensively restored for use on official occasions. The finest rooms, and the most interesting from the art historian's point of view, are those overlooking the Dam. The city treasurer's room has an interesting marble fireplace and ceiling paintings by Cornelius Holsteyn. The Hall of the Aldermen contains paintings by Ferdinand Bol and Govert Flinck and a work by Jan Lievens hangs in the Mayor's Chamber. The largest and most important room is the Council Hall (34*13*16·75 m (112*13*55ft.) and 28 m (92ft.) high). This sumptuously decorated hall (one of the most beautiful state rooms in Europe) was where the ball celebrating the marriage of the Crown Princess Beatrix to Claus von Amsberg was held in 1966. Mention should also be made of the ante-room (Vierschaar) which contains four outstanding caryatids (figures supporting beams) by A. Quellinus the Elder.
Map - Royal Palace
Map - Netherlands - Royal Palace
Map of Amsterdam Attractions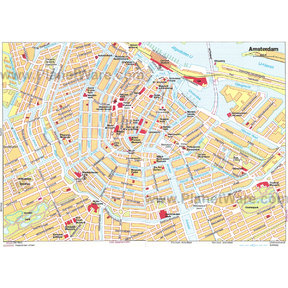 Amsterdam Map
More Amsterdam Attractions