Municipal Museum, Amsterdam
Stedelijk Museum
The Municipal Museum (founded in 1895) is one of Europe's most important modern art museums. Its collection mainly covers 19th and 20th C. Dutch and French painting. The museum owes its existence to the appreciation of art and the generosity of leading citizens of Amsterdam. Its collection is based on the gift of the widow Suasso-De Bruin ("Sophia Augusta foundation"). Chr.
Important Information:
Address:
Paulus Potterstraat 13, Amsterdam, Noord-Holland 1071 CX, Netherlands
Opening hours:
10am-6pm; Thu: 10am-10pm; Closed: Mon
Always closed on:
New Year's Day (Jan 1)
Entrance fee in EUR:
Family €20.00, Adult €10.00, Child 18 & under €5.00, Senior over 65 €5.00, Child 12 & under FREE
Useful tips:
While the Stedelijk Museum Amsterdam is closed for renovation and extension (till 2012), it is hosting a temporary program "the temporary stedelijk at the stedelijk musuem".
Disability Access:
Full facilities for persons with disabilities.
Facilities:
Restaurant or food service
P. van Eeghen's collection of contemporary art was added to this as well as other collections not confined to contemporary works. These were later transferred to other museums, since in accordance with its original concept the Municipal Museum specializes in modern art from the mid-19th C. onwards. The following are some of the movements and artists represented: De Stijl (Van Doesburg, Mondrian, Rietveld), Cobra (Karel Appel, Corneille, Jorn), Colorfield Painting (Kelly, Louis, Newman), Pop Art (Rosenquist, Warhol), Nouveau Réalisme (Armand, Spoerri, Tinguely); painters such as Chagall, Dubuffet, De Kooning, Malevitch and Matisse. The sculpture garden contains numerous works, including those of Rodin, Moore, Renoir, Laurens and Visser.
Municipal Museum Highlight
Stedelijk Museum Concerts
Saturday afternoon concerts of modern music.
Map - Municipal Museum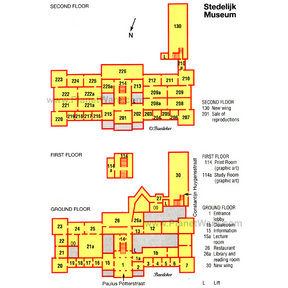 Map - Amsterdam Stedelijk Museum Ground Floor
Map of Amsterdam Attractions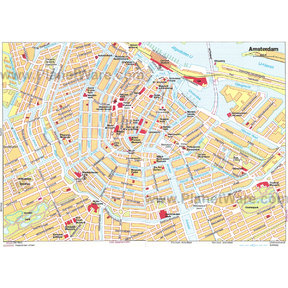 Amsterdam Map
More Amsterdam Attractions